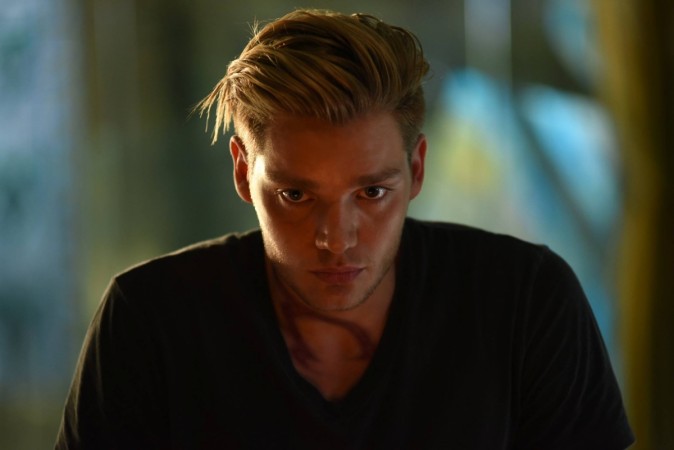 The Spring finale of "Shadowhunters" Season 1 is upon us and if there's one thing that everyone's dying to know, it is Jace's (Dominic Sherwood) future on the show. In episode 13, Jace faces a dilemma and it is only Clary (Katherina McNamara) who can save him.
[Spoiler Alert]
The last few episodes of the Freeform TV series has explored the gray area between right and wrong. This is seen predominantly in Jace's character arc. The shadowhunter, who longs for a family, finally realised that he actually has one. But his dad is the dreaded villain, Valentine (Alan van Sprang).
This information affected him more than Clary, who is also Valentine's child. Unlike Clary, Jace didn't have a mother protecting him or showing him an iota of love. So when Valentine asks the shadowhunter to be part of his army, will he do it? Will he abandon his duty to experience life in a family unit?
In the promo for episode 13, Valentine tells Jace, "Come with me, I still have so much to teach you." Jace looks on in anger but his fellow shadowhunter and girlfriend Clary knows that Valentine has touched a nerve with that sentence.
This is why she spends most of Season 1 finale trying to show him the difference between good and bad. Jace, who believes that he has a certain darkness within him, wrestles to stay on the right path. But his relentless girlfriend and harbinger of truth (in this case) reminds him that he's very different from Valentine.
Although Jace's decision is not yet known, fans will remember that every character on the show has somehow always done the right thing. Alec followed his heart and kissed Magnus (Harry Shum, Jr.) in episode 12. Likewise, Izzy (Emeraude Toubia) stood up for what she believed was right during her trial. Will Jace's storyline fit into the general theme of standing up against evil forces?
"Shadowhunters" Season 1 episode 13 airs 9 p.m. EST Tuesday, April 5, on Freeform. You can live-stream the episode via Freeform Go.