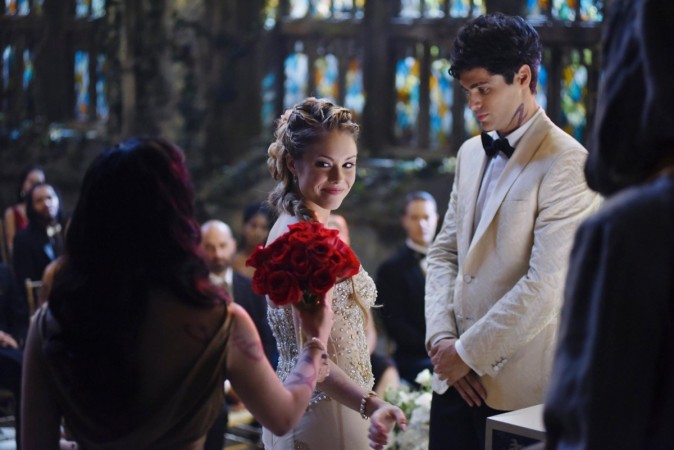 Fan-favourite couple, Magnus (Harry Shum, Jr.) and Alec's (Matthew Daddario) relationship will be tested when Season 1 episode 12 titled "Malec" airs. The latest instalment of "Shadowhunters" will take a break from the drama surrounding Valentine (Alan van Sprang) and focus on the real problem instead: what will happen to the parabatai and the warlock's romance?
[Spoiler Alert]
Fans of the show will remember that Magnus has always stood by Alec and his friends. He defended his lover's sister, Izzy (Emeraude Toubia) and helped the shadowhunters every time they sought answers about Valentine or Jocelyn (Maxim Roy) or a rune.
In the latest episode, however, it is Magnus who will need help as he faces the prospect of heartbreak. The promos for episode 12 indicate that a wedding is underway at the Institute and this means Alec will be unlucky in love again. The parabatai is scheduled to marry Lydia (Stephanie Bennett), ignoring his emotions and sexuality.
If Alec's decision to spend the rest of his life with Lydia is difficult as it is, Magnus will not make it any easier. The warlock schedules a meeting and reminds Alec why they love each other. In the promo (via TV Line), Magnus says, "I know you feel what I feel Alec."
According to the synopsis (via TV Guide), Alec won't live in denial forever. He will battle his emotions for Magnus when he is supposed to be enjoying himself at his bachelor party. Will he tell his fiancée Lydia about his love for Magnus? Will Alec mend ties with Jace as well? Will the Clave become tough on the Lightwoods if the marriage is broken? These are some questions that we hope are answered.
"Shadowhunters" Season 1 episode 12 airs 9 p.m. EST Tuesday, March 29, on Freeform. You can live-stream the episode via Freeform Go.