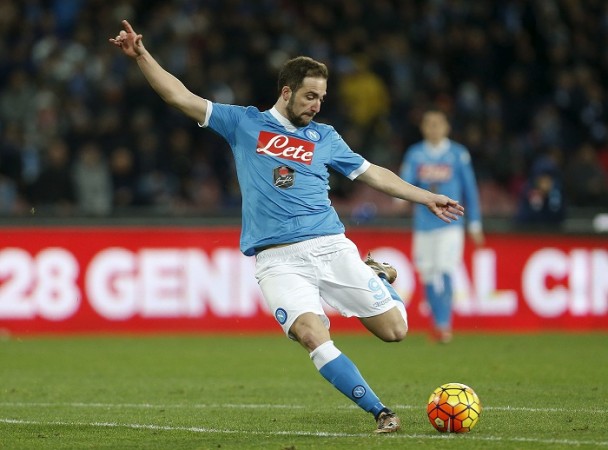 Napoli stand a chance to go top of the Serie A as they prepare to host AC Milan in an important encounter at the Stadio San Paolo on Monday. But it is not going to be easy for Napoli, who are going to face a confident looking Milan side.
Juventus, who presently top the table with 58 points, will go down to second position if Napoli defeat Milan. Juventus were held to a goalless draw in their last fixture against Bologna on Saturday.
Napoli will be keen to latch onto that opportunity. The race for the Serie A title is expected to be a close fight between Juventus and Napoli. Fiorentina, who are also contenders, lie in third place with 52 points, six away from the top.
Defeating AC Milan in the game on Monday could prove to be a confidence booster for Napoli, who last won the title in the 1989-90 season. Despite being one of the best teams in the last few years in the Serie A, the title has always eluded them. However, this season represents a great chance for Napoli to end their Serie A title draught, but it primarily depends on how they handle the pressure.
Napoli have been a huge force in the Serie A this season, primarily due to one player, Gonzalo Higuain, who has been scoring consistently. The Argentina international is the highest scorer in the Serie A with 24 goals against his name. Lorenzo Insigne has been decent in front of goal as well, scoring 10 goals.
AC Milan need to adopt a special strategy to stop Higuain and Insigne from scoring goals.
However, Napoli do not come into the game as a confident unit, after losing their last two games -- against Villarreal (Champions League) and Juventus (Serie A). Napoli's manager, Maurizio Sarri, though, is not perturbed by recent results.
"These are random defeats if we look at the matches for their performances. Napoli did not give that much against such a strong opponent, launched in the League. It was a great challenge that was decided by an episode, as they did in Turin," Sarri was quoted as saying by Napoli's official website.
"Despite the two defeats we are not worried because we stood up against Juve and Villarreal as well. I would be less happy if we had played two scoreless without playing in our own way but only defending ourselves."
AC Milan are aware of the importance of the clash, and have prepared well. A victory for either team in the fixture will help them inch closer to their respective goals.
AC Milan might not have started their Serie A campaign well, but their performances of late have been really impressive, pushing them ever closer to the Champions League spots. Their last five matches in all competitions reads a consistent four wins and one draw.
"There has been consistency in our results and we have been doing well. It's an important match, and like I have said, the second half of the season has to be one in which we turn the situation around. Napoli will be determined because a win will take them above Juventus and top of the table again," Sinisa Mihajlovic was quoted as saying by AC Milan's official website.
Milan, in such inspiring form, must be plotting revenge as they lost to Napoli 4-0 in the reverse fixture.
Where to watch live
Napoli vs AC Milan Serie A game liveis scheduled for 9 p.m. local time (1:30 a.m. IST, 8 p.m. GMT 3 p.m. ET) with live TV coverage in India on Sony Sixand live streamingon Sony Liv.
Viewers in the UK can watch Napoli vs AC Milan Serie A gamelive on BT Sport Europe; live streaming onon BT Sport Live.
US viewershave the luxury of watching the Napoli vs AC Milan Serie A game on beIN Sports USAwith live streaming on beIN Sports connect.
Viewers in Italy can watch Inter Milan vs AC Milan Serie A gameon Sky Sport1/HD Italia.