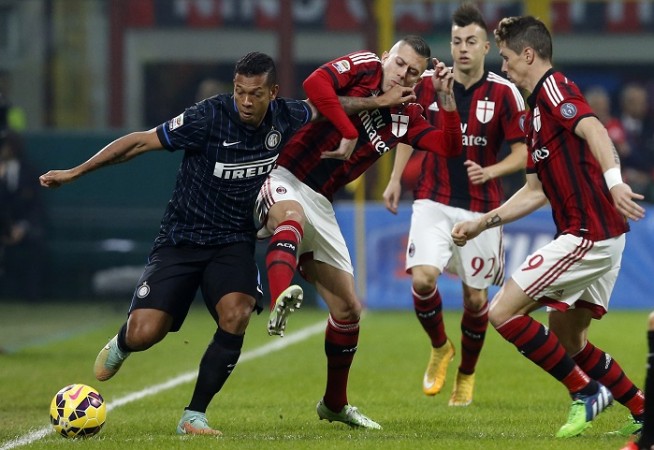 The Milan derby takes centre-stage for the second time this season as Inter Milan and AC Milan – the two most successful teams in Italy - face each other at the San Siro on Sunday.
The Milan derby has certainly lost in charm of late as neither side have been dominant in the last two-three seasons.
While Inter Milan have faded away after winning their famous treble in the 2009/10 under former boss Jose Mourinho (currently at Chelsea), AC Milan have also not been quite up to the mark since their Serie A triumph in the 2010/11 season.
Despite this game not being of much interest to the neutrals, it is still a very big game for the fans of Inter Milan and AC Milan, who will both be desperate to see their respective team triumph on Sunday.
The last meeting between these two sides in the Serie A in November ended in a 1-1 draw, with Joel Obi and Jémy Ménez netting a goal apiece for Inter and AC Milan respectively.
This game will also probably be very close as AC Milan and Inter are currently one point apart in the 9th and 10th position respectively in the Serie A.
If Inter win this game, they will be able to climb to the seventh place in the Serie A, while AC Milan will be able to move to the same position.
Although the outcome of this fixture will not have a major impact on either side's season as European football seems to be out of the reach for both the teams, Inter boss Robert Mancini insists that his side have more to lose during Sunday's Milan derby.
"Who has more to lose? Inter are the 'home' team, so arguably it would be worse for us to lose, but in truth the situations are very similar," the former Manchester City boss told Goal.
"I had hoped Inter would be higher up the table by now and still in the running for silverware. At times our campaign has been negative."
Although Mancini admits that the Milan derby has lost its lustre, he feels that Inter can use this game as a spring board to improve.
"The derby is an important game, even if it's a little 'poor' compared to previous years," he added. "As far as we're concerned, it must be the foundation for a relaunch."
Meanwhile, AC Milan boss Filippo Inzaghi is certain that his side will be able to do well against their rivals Inter following their impressive performance against Sampdoria in the last fixture.
"It [Milan Derby] is important for the league table and that's not all. We're taking on a great side, but we have to take to the pitch convinced that we can give a top performance," he said.
"Against Sampdoria we had 24 shots on goal. From those, 7 were on target but only one was a goal, which means that we have to improve... I am calm ahead of the match but it's clear that the derby is a match that has to be won."
Although AC Milan's chances of qualifying for next season's Europa League are pretty low, Inzaghi insists that his side will be fighting "to the point of death" in each and every one of their remaining league fixtures starting with the Milan derby.
"Until it's not mathematically impossible, we've still got to believe in Europe," he told Sky Sport Italia. "We've got to keep our hopes alive by playing every game to the point of death, starting with the derby. We've still got the chance to gratify ourselves."
Expected Line-ups:

Inter Milan: Handanovic, Santon, Ranocchia, Vidic, Juan Jesus, Hernanes, Medel, Kovacic, Shaqiri, Icardi, Palacio
AC Milan: Lopez, Abate, Mexes, Paletta, Antonelli, Poli, De Jong, Van Ginkel, Cerci, Bonaventura, Menez
Where to watch live
The Milan derby is set to begin at 8:45pm local time (12:15am IST, 7:45pm BST, 2:45pm EDT) with live coverage in India on Star Sports 1 and Star Sports HD 1. Viewers in India can also catch all the action via live streaming online on Starsports.com.
Viewers in the UK can catch all the action on BT Sport 1, while the option to live stream is on Watch BT Sport. The Milan derby will be shown live in the US and Canada on Bein Sports USA and Bein Sports Canada respectively with the live streaming option on Bein Sports Connect.
Viewers in the Middle East and North Africa can catch the Serie A match on Bein Sports Arabia or Bein Sports Connect, while the audience in Australia can enjoy the action live on Bein Sports Australia and Bein Sports Connect.
The match will be telecast in Italy on Sky Calcio 1, Sky Sport 1 HD Italia, with an option to live stream on Sky Go Italia