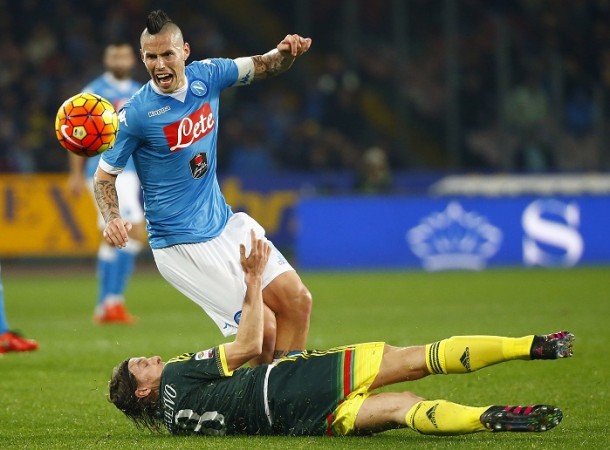 Napoli lie second in the Serie A standings, and have to defeat Fiorentina at Artemio Franchi in Florence, Monday, to close the gap on table toppers Juventus, who lead the table with 61 points. Napoli have 57 points. A loss against Fiorentina is going to be a huge disappointment after their exit from the Europa League as well.
With the game a must-win for Napoli, there is huge pressure on them, and Fiorentina will be keen to exert more pressure by playing some solid football. Napoli will not find it any easy against Fiorentina, who can jump to third place with a win against Napoli.
Fiorentina coach Paulo Sousa believes that such pressure for Napoli will help their cause.
"The pressure has to be positive for us," Fiorentina coach was quoted as saying by Football Italia.
"The teams who are in the top positions have the duty to be there, whereas we built ourselves this opportunity. We want to continue doing well, fighting it out with sides who have the duty to challenge for the Scudetto."
"The lads and I have never disguised we want third place. This week we have a great opportunity to consolidate our position."
Of late, Napoli's form in all competitions has not been any good either. They have failed to register victories in their last four matches. Napoli, who are a strong offensive unit, have also failed in front of goal, with three goals in five games. This is not the Napoli, which fans came across early in the season.
With such record behind their back and Juventus enjoying a four-point lead, Napoli will depend on their star player Gonzalo Higuain to deliver against Fiorentina.
Napoli, who has been in top form this season, owes much of its success to Huguain. The Argentinean striker has scored 24 goals for Napoli so far and if the visitors are to emerge triumphant, they need Higuain to fire.
Fiorentina, who were also dumped out from the Europa League, are aware of the genuine threat, which Higuain brings to the table. Though they might have been below par in Europe, their performance in the Serie A have been top class. They are enjoying a six game-unbeaten run.
However, Fiorentina needs to find a way to stop Napoli from playing their counter attacking brand of football. They are a huge threat on the counter with Marek Hamsik and Lorenzo Insigne playing an important role alongside Higuain.
The match promises to be a cracker contest as both the teams only has one title to play for – Serie A – after being knocked out other competitions.
Where to watch live
Fiorentina vs Napoli Serie A game has been scheduled for 9 p.m local time (1:30 a.m. IST, 8 p.m. BST, 3 p.m. ET) start with live TV coverage in India on Sony Six.
Viewers in the UK can watch Fiorentina vs Napoli Serie A live on BT Sport Europe, live streaming on BT Sport Live.
US viewers have the luxury of watching the Fiorentina vs Napoli Serie A on beIN Sports USA with live streaming on beIN Sports connect.
Viewers in Italy can watch Fiorentina vs Napoli Serie A on Sky Sport1/HD Italia.