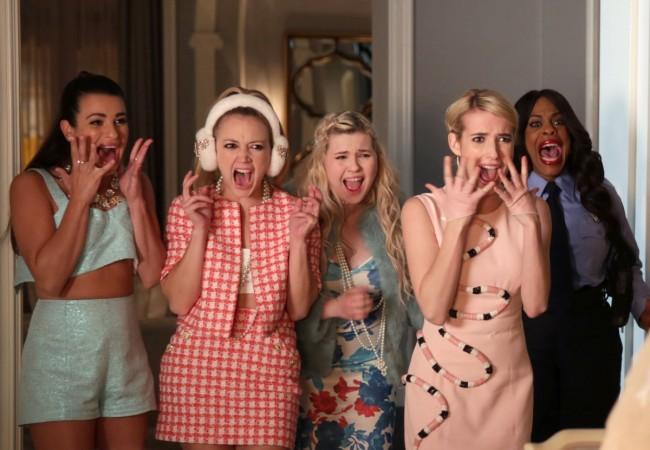 Notwithstanding several deaths on the campus and a killer being on the loose, the sorority sisters at Kappa Kappa Tau (KKT) won't let anything stand in their way on Black Friday. The latest episode of "Scream Queens" highlights one of the best days in the American calendar by juxtaposing it with murder, schemes and the wrath of the Chanels.
In episode 11 titled "Black Friday", Chanel Oberlin (Emma Roberts), along with her minions Chanel no.3 (Billie Lourd), Chanel no.5/Libby Putney (Abigail Breslin) and Chanel no.6/Neckbrace/Hester Ulrich (Lea Michele), heads to the mall to make the most of the sale, but they are trapped inside the building.
In the promo for the upcoming episode, Chanel says, "Oh my God! We're locked in!" She decides to fight with the Red Devil, the killer who has made everyone's life a nightmare on the Wallace University campus. The killer, armed with a crossbow, aims at Chanel, but she is not afraid. In the promo, she says, "Go on and shoot me."
Meanwhile, Zayday (Keke Palmer) and Grace (Skyler Samuels) craft a plan to kill Dean Munsch (Jamie Lee Curtis) after they suspect in episode 10 that she's the killer.
According to TV Guide, season 1 episode 11's synopsis reads:
The Chanels go shopping on Black Friday, but the Red Devil wants to foil their spending spree. Meanwhile, the Kappas devise a plot to halt Dean Munsch; Denise finds another new job; and someone makes a murder confession.
"Scream Queens" season 1 episode 11, titled "Black Friday", airs on Tuesday, 9 pm on Fox. You can live stream the episode via Fox Now and Hulu.
Watch the promo here: