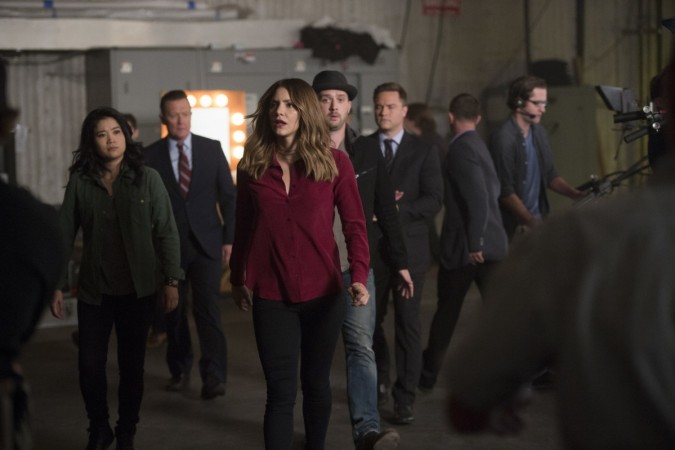 The prime focus of Scorpion Season 3 episode 7 will be on the love triangle between Walter O'Brien, Paige Dineen and Tim Armstrong. The sequel is titled We're Gonna Need A Bigger Vote and it will be aired this Monday, November 7, at 10 pm EST on CBS.
With the involvement of their parents, the relationship between the three will probably take a turn for the worst. The trailers for the new episode indicate that problems will start with the introduction of Armstrong's parents.
The promo shows Scott Porter's character requesting his lover to meet his parents while they are in Los Angeles for a couple of days and she agrees. But the rest of team members disagree with her and try to convince her to step back. Elyes Gabel's character immediately interferes and tells her that there is nothing wrong in meeting the parents.
However, spoilers suggest that Dineen's mother Veronica will not be pleased with Armstrong and she will take Walter's help. According to TV Line, the character will be played by actress Lea Thompson of Switched At Birth fame.
Will Veronica reveal something about her onscreen daughter's past? Click here to know more about it. Episode 7 We're Gonna Need A Bigger Vote will also be available online here.
Meanwhile, the case of the week will focus on US presidential election and the official synopsis hints at troubled moments for Tobias Meriwether Curtis a.k.a Toby. Here is the short summary: On Election Day, as democracy hangs in the balance, Team Scorpion will be called on when someone tries to throw the US presidential election into chaos.
Check out the official synopsis for episode 8 Sly And The Family Stone below:
When Team Scorpion travels to Ireland for Megan's one-year memorial, Walter discovers that a nearby lake's natural disaster has created a poisonous cloud that could kill everyone in the village. Also, Cabe and Toby try to alleviate the tension between Tim and Walter.