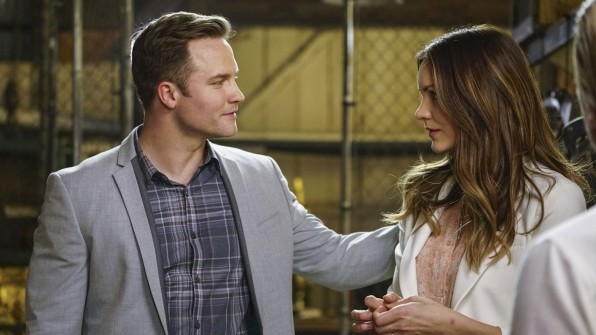 In the next episode titled "Djibouti Call" of CBS's action drama series "Scorpion" Season 2, it seems that the relationship between Walter O'Brien (Elyes Gabel) and Paige Dineen (Katharine McPhee) will finally come to an end.
CLICK HERE to watch what causes the two of them to break up and what new mission awaits Team Scorpion.
According to the synopsis of the episode, Walter and his team must save Cabe (Robert Patrick) after he is captured during a secret mission in Djibouti, Africa.
Walter had come out with a rule stating that no member of Team Scorpion will be in a relationship with one another. However, soon Toby (Eddie Kaye Thomas) and Happy (Jadyn Wong) broke the rule and got committed to each other.
Previously, in an interview with Entertainment Weekly, Thomas had said that Toby and Happy's relationship might compel Walter to reconsider his relation with Paige.
"Actually, Happy and Toby getting together may help push Walter and Paige in the right direction. I imagine it's like an awkward double date where one couple can't stop making out and they're all over each other, and the other couple likes each other, but no one has made the first move yet." Thomas said.
"It creates awkwardness and brings up what obviously should be happening. I don't think it's just the audience at home watching it, everybody working at Scorpion sees how into each other they are. It'll turn up the heat under Walter a little bit."
However, in order to set an example, Walter might decide to end his relationship with Paige so that his teammates can understand that how being in a relationship with each other can affect their work and ability to tackle the numerous hurdles that Team Scorpion often faces.
According to Yibada, it has also been confirmed that Scott Porter of "Friday Night Lights" and "The Good Wife" fame will appear in the upcoming episode. He will be portraying the character of Tim Armstrong.