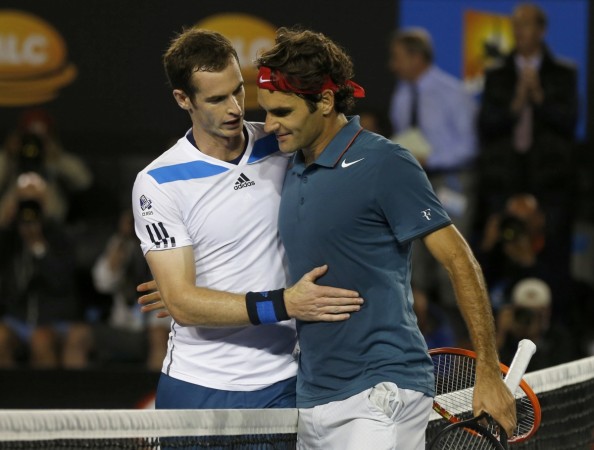 Roger Federer and Andy Murray will face each other in a much-awaited clash on Day 5 of the ATP World Tour Finals at the O2 Arena in London on Thursday, after posting wins in their respective matches on Tuesday.
Federer followed up his win over Milos Raonic of Canada on Day 1, with a 6-3, 6-2 win over Kei Nishikori of Japan. Murray, on the other hand, bounced back from the opening day defeat to Nishikori, to see off the challenge from Raonic 6-3, 7-5.
Federer has been playing some good tennis of late and, as a result, his ranking rose from last year's fourth to second now. The two previous wins have pretty much confirmed the 33-year-old's ticket to the semis but the veteran will not see this tie as an insignificant one.
The six-time Tour Finals champion enters the competition this year with the aim of rewriting yet another record in tennis history. If Federer wins the competition, he can recapture the world no.1 title from Novak Djokovic and finish the season on top of the ATP Rankings, tying Pete Sampras' all-time record.
"There's so much still at stake for me, wanting to beat a fellow rival and wanting to win the points that are at stake, go in with a clean sheet into the semis. I'm happy after two matches I'm standing here with two wins. It's very positive," the 17-time Grand Slam winner pointed out.
Meanwhile, Murray, who was sidelined for the Tour Finals last year due to a back surgery, looked unlikely to qualify for the eight-man showdown this time as well, after enduring a difficult season in which he managed zero titles.
However, the Scot then played a remarkable six tournaments in as many weeks, and picked up three trophies to book his spot in London. The 27-year-old is keen to make a mark on his home turf, and end the year on a high. But after losing the first tie against Nishikori, he knows his fate will depend on his next match and that of the Japanese star.
"It will be obviously a very difficult match [against Federer]. But it will be an exciting match. A good one to be part of. I hope I can play well. We've had some very good matches over the years. I hope on Thursday it will be the same," the 2013 Wimbledon champion stated.
Of their previous 22 meetings on the tour, the head-to-head record is currently tied at 11-11, though Federer has won three of their last four clashes.
Where to Watch Live
Federer vs Murray will not start before 1.30am IST (7pm GMT), with Ten Sports and Ten HD providing live coverage in India, while the match can also be watched via live streaming online on Ten Sports Live.
Viewers in the UK can watch the match live on Sky Sports 3 and Sky Sports 3 HD, while they can also catch the action live on Sky Go. US viewers can watch the tie live on Tennis Channel on TV or online on HERE.