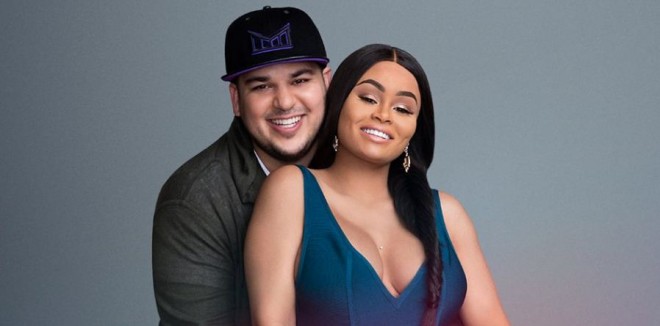 E!'s much awaited reality TV show "Rob & Chyna" premieres this Sunday and it feels like the show reveals all the questions fans have about Rob Kardashian and Blac Chyna's relationship. In the premiere instalment Season 1 episode 1, titled "Are You Still Texting B#@tches," the sock designer and his fiancée have a huge argument.
In the season premiere episode, Rob and Chyna get into a fight after certain insecurities crop up. Chyna aka Angela Renée suspects Kim's brother of cheating on her.
She asks Rob if he is talking to other women. Although it's not yet clear how he responds, suffice it to say that his reply makes her throw him out of the house. Rob looks to Scott Disick for help and in the promo for Season 1 episode 1, he says that he's tired of their fights.
Rob adds that Chyna throws him out of the house whenever they argue. He also adds that he's going to stay at his mom's house in Calabasas until his fiancée's anger cools off. Surprisingly, he receives the most grown up and mature advice from Scott.
Kourtney's former partner asks Rob to keep calm and be strong for the both of them. "It happens. And by the way, she's horomonal; she's pregnant. If you weren't kicked out of the house, that would be weird," Scott says.
Although Rob and Chyna have a huge argument in the premiere episode, they also share some memorable moments. The two discuss about their kid and raising their child as a married couple.
According to the synopsis (via TV Guide), the couple also deal with their engagement, their extended family and Chyna's pregnancy.
"Rob & Chyna" Season 1 episode 1 airs at 9 p.m. EST on E! You can live-stream the episode via E! Live.