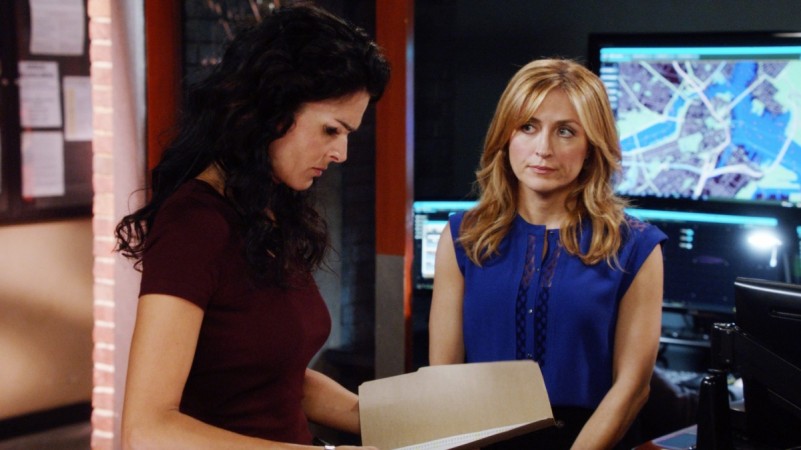 The end of "Rizzoli & Isles" Season 6 is upon us and the finale will reveal the person who has been tormenting Jane Rizzoli (Angie Harmon). In Season 6 episode 18 titled "A Shot in the Dark," Jane and Maura Isles (Sasha Alexander) will investigate a death that's linked to the detective's nemesis.
[Spoiler Alert]
The upcoming episode will begin with a State Trooper's death in Maine. When the protagonists of the show, Jane and Maura, arrive at the crime scene, they find a getaway car used by the killer. On further research, Jane and her team will find that an ex-convict Wendy Allen (Jaimi Paige) is linked to the murder.
"The woman you're looking for is an ex-con who has been targeting me and my family," Jane says in the promo.
Although it appears that Jane has a plan to nab the criminal, her best friend Maura says, rather ominously, that Wendy will continue to come after Jane.
In the video clip, Jane and the rest of her team are seen dressed up at a costume party. However, things will not go according to the Boston Police Force's plan. Jane yells, "Guard" as she sees something shocking. Will there be another attack? Who will Wendy target? This remains to be seen.
Season 6 episode 18's synopsis (via TV Guide) reads:
"A state trooper is killed in Maine and the getaway car has ties to the mastermind of attacks on Jane. Mysteries surrounding the mastermind's obsession with Jane must be solved to keep her safe and to take down the predator for good."
"Rizzoli & Isles" Season 6 episode 18 airs Tuesday, March 15 at 9 p.m. on TNT. You can live-stream the episode via TNT Live.