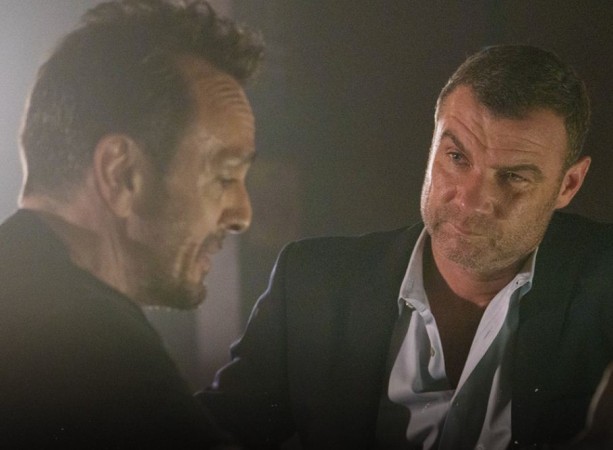 Season 4 episode 4 of "Ray Donovan" will be aired on Sunday, July 17, and the episode, titled "Federal Boobie Inspector," will see the return of Hank Azaria as Ed Cochran. It is understood that Ray (Liev Shcrriber) has some important business to wrap up in Hollywood, but he has a lot of distractions back home.
The previous episode saw one of Belikov's (Pasha D. Lychnikoff) men breaking and entering into Donovans' home in an attempt to kill Ray. Now, Sonia (Embeth Davidtz) needs Belikov, and she needs to immediately. However, Ray asks for some more time, which Sonia isn't happy about.
Ray is preoccupied by the news that his father Mickey (Jon Voight) is back in town and he is looking to plan a new scheme, for which he needs a new partner-in-crime. As fans know, there is always trouble when Mickey is around.
Meanwhile, Ray is seen uncovering Ezra's (Elliott Gould) safe hidden in his closet, his widow Deb (Denise Crosby) exclaims, "The two of you and your secrets." Whatever is in the safe seems to have something to do with a shared past, that he needs to revisit to secure his future.
A photo of Ed was shared on the "Ray Donovan" Facebook page, suggesting that Ray would pay him a visit as well:
Abby (Paula Malcolmson), who is struggling with the idea of treating her cancer will get support from Lena (Katherine Moennig) and an ex-girlfriend. There are rumours about a kiss between two of the ladies as well, may be the former lovers re-kindle their romance?
Don't forget to watch Season 4 episode 4 of "Ray Donovan" at 9 p.m. (EST) on Sunday, July 17. You can also live-stream "Federal Boobie Inspector" via Showtme Anytime.