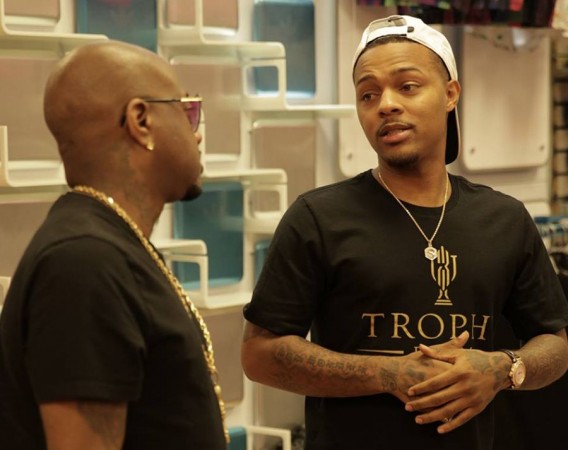 The kid rappers of "The Rap Game" Season 2 are under tremendous pressure, but as Jermaine Dupri always reminds, the only place you are safe at is number one on the hit list. However, it looks like a few of the rappers are getting sucked into the stress and negativity that comes along with being on a competitive show like "The Rap Game."
In the upcoming Season 2 episode 4 titled "We Don't Take No L's," fans will see Lil Key second-guessing himself and his rapping skills. However, his mom wants to hear none of it and tries to get him back on his feet. "I'm so worried about not messing up," Lil Key tells his mother in the promo for the episode.
The proud but tough momager reminds Lil Key, "Come on, Yo. You got this s---... You got this. Stop worrying about it... Let it go. I keep telling you that. The more you f------ worry about messing up... that's what's going to make you mess up." It doesn't look like he imbibed this message, but she definitely got as tough as she could with him.
In another preview for the episode, we see Lil Key stopping mid-performance and asking if he could run it back, to which his mother replies, "no." Now we know a lot of this could be editing misdirections, but the synopsis for "We Don't Take No L's" suggests that for the first time JD is contemplating sending a finalists back home. The title of the episode also suggests a similar story.
The Prince of New York has been a consistent performer and was the topper last week. Mani, on the other hand, has been working extremely hard to stay focused on the game. Even when the rest of the kids went out to play and have fun, he stayed in, perfecting his lyrics. It is unlikely that either of them would be in the bottom two. Meanwhile, the ladies of the show are missing from the trailers, so the episode may not be focused on them either.
All these point to the possibility that Lil Key may be heading home after episode 4 of "The Rap Game" Season 2. It would be quite embarrassing for JD if he were to make this tough decision during the same week Bow Wow is mentoring the kids.
Don't forget to watch Season 2 episode 4 of "The Rap Game" 10 p.m. (EST) on Friday, Aug. 12, and stream "We Don't Take No L's" online via Lifetime website.