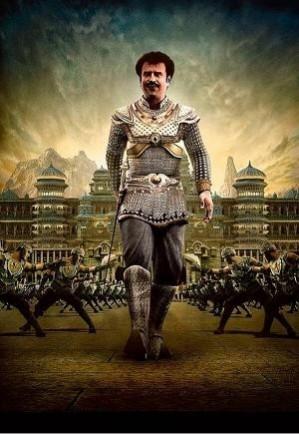 Rajinikanth's "Kochadaiiyaan" teaser, which was released on 9 September, continues to be a big hit on social networking sites.
The one-minute, 14-second teaser has received more than two million (over 20 lakh) views in just two days, proving once again that Rajinikanth is the real superstar. The video begins with the text: "There are heroes and superheroes. But there is only one Rajinikanth."
Th teaser of "Kochadaiiyaan" (a king with a long, curly hair) shows a younger, healthier Rajini as a warrior. According to the film's director Soundarya Rajini, "Kochadaiyaan" is a fictitious story of a family who are devotees of Lord Shiva, reported The Times of India.
The epic drama film is a prequel to "Rana", a film that KS Ravikumar was planning to direct with Rajinikanth in the lead. Kochadaiiyaan is Rana's father and both characters are played by Rajini.

"Kochadaiiyaan" is India's first performance-captured animation film, in which actions performed by real actors are captured and put in 3D format. It has taken more than a year and a half for the "Kochadaiyaan" team to complete the film as it involves alot of special effects.
The film's run-time is two hours and four minutes and is expected to hit the screens on Rajinikanth's birthday (12.12.2013). It will have a simultaneous release in Tamil, Telugu and Hindi languages. The Rajini starrer will also come in English and Japanese versions.
The film's music, which is composed by AR Rahman, will be out in the markets in October, during the Navarathri festival season. One of the tracks in the film is expected to be released this month.
The film has a big star cast including Sarath Kumar, Shobana, Nassar, Bollywood actor Jackie Shroff, Aadhi of "Aravaan" fame and Deepika Padukone, who plays a beautiful princess called Vadhana Devi.
Soundarya said the next teaser of "Kochadaiiyaan" will be released just to reveal Deepika's stunning looks. "@deepikapadukone @Kochadaiiyaan The beautiful princess "Vadhana Devi" :):):) next teaser just to reveal your look stunner!!! :):):)," the director tweeted.
Check out some of Rajinikanth's stunning looks in "Kochadaiiyaan".