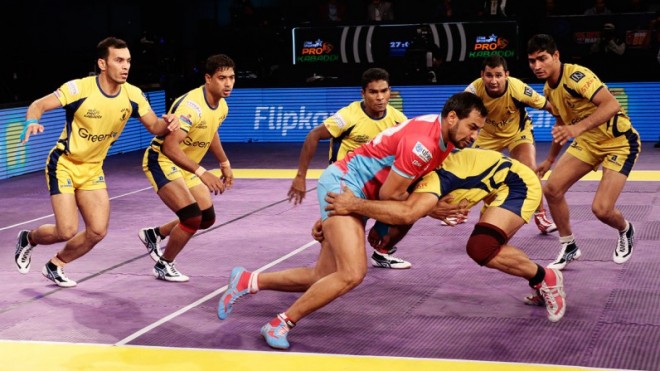 Telugu Titans will be looking to move to at least the third place in the table with a favourable result against Jaipur Pink Panthers in Pro Kabaddi League 2016 on Tuesday at the Patliputra Sports Complex in Patna.
The two sides meet for the second time this year and Tuesday's match is expected to be a cracking contest. The Titans defeated the inaugural Pro Kabaddi League champions Pink Panthers by just two points in their first encounter this season in Pune, and the Jaipur side can be expected to put up a good fight in Patna.
The Pink Panthers are currently sixth in the table with just two wins and four losses from their seven games so far while Telugu Titans are currently fourth in the table with four wins and three losses.
The Jaipur outfit, co-owned by Bollywood actor Abhishek Bachchan, will be hoping the next seven games in the regular league season this time turn out to be better for them as they eye a playoffs spot.
It was a complete team performance dished out by the Jaipur Pink Panthers the last time they took on Telugu Titans. The likes of Sonu Narwal, Kuldeep Singh and Rajesh Narwal teamed up to perform bravely for the Pink Panthers, but the Telugu Titans side, led by an inspired performance by star all-rounder Mehraj Sheykh, just got the job done for the Titans.
The second-leg encounter between the two is evenly poised, but Jaipur Pink Panthers, who made a stunning statement in their season opener by defeating defending champions U Mumba, can be expected to bring out the fight to Telugu Titans.
Squads: Telugu Titans – Rahul Chaudhary (C), Dharmaraj C, Isaac Anthony, Prashanth Kumar, Rohit Baliyan, Sukesh Hegde, Yosuke Sasaki, Rahul Kumar, Vikas Kale, Wasim Sajjad, D Gopu, Manoj Kumar, Kalimuthu B, Mehraj Sheykh, Ravit Kumar, T Prasad.
Jaipur Pink Panthers – Navneet Gautam (C), Gangadhari Mallesh, Jasvir Singh, Rohit Kumar, Sonu Narwal, Raju Choudhary, Rohit Rana, C Arun, Jagdeesha KK, Anil Patil, Hwangi Ahn, Rajesh Narwal, Kuldeep Singh, Mohammad M, Ran Singh, Samarjeet Singh, Sanjay Shreshtha, Satish Kumar.
Where to Watch Live:
The match between Telugu Titans and Jaipur Pink Panthers will begin at 9 p.m. IST (3:30 p.m. GMT) on Tuesday, Feb. 16.
Pro Kabaddi League 2016: Telugu Titans vs Jaipur Pink Panthers can be caught LIVE on the Star Sports Network.
Hindi Coverage - Star Sports 3, Star Sports HD 3, Star Gold
English Coverage - Star Sports 2, Star Sports HD 2
Telugu Coverage - Maa Movies
Kannada Coverage - Suvarna Plus
UK viewers can catch the action on Life OK
Live streaming will be available on Hotstar and Starsports.com