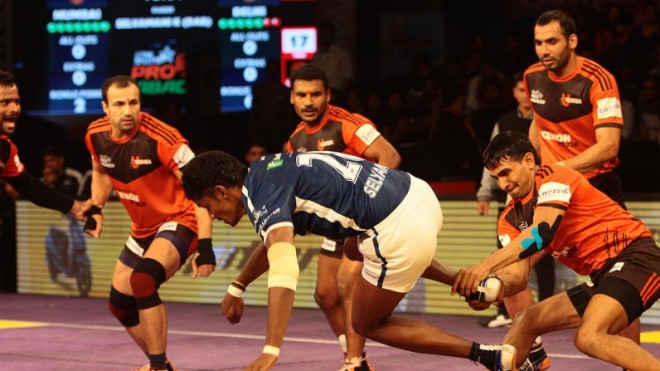 Defending Pro Kabaddi champions U Mumba take on Bengal Warriors in the second semifinal of the Pro Kabaddi League 2016, Friday, at the Indira Gandhi Indoor Stadium in New Delhi.
CLICK HERE to watch the Pro Kabaddi 2016 final
U Mumbai are the clear favourities to go through and make it to their third straight final, but the Bengal Warriors are surely not going to back down from putting a good challenge.
The Kolkata side, like Puneri Paltan, are in the Pro Kabaddi semifinals for the first time since the inception of the competition, and everything will depend on how the handle the big-game pressure.
Bengal Warriors had a dream to start their season but somewhere down the road, they lost that magic touch. The Kolkata-based team know they have to get their form back at the earliest to have any chance of progressing to the grand finale.
They lost four times in their last 10 games and finished the league season with a total of 47 points -- nine wins and five losses.
"Making it to the semifinals finally is a big weight off the shoulders. We will go to Delhi in a relaxed frame of mind," Bengal Warriors skipper Nilesh Shinde was quoted as saying by The New Indian Express ahead of the match against U Mumba.
Shinde may have said that he and his men will approach the game with a relaxed mindset but it needs to be seen how relaxed they will be once the game starts.
U Mumba look the strongest of the four teams fighting it out to reach the final, as they not only have the experience of reaching the final in two previous seasons, but their form has also seen a rise in the second half of this campaign.
The Mumbai side defeated Dabang Delhi by as many as 16 points in their final league fixture, Wednesday, to take top spot in Pro Kabaddi 2016.
After they were beaten by Patna Pirates on Feb. 6, U Mumba went on to win 10 games on the trot, and once again, stamped their authority on the competition. "Hard work" and "performing from the heart" are the keys to success for U Mumba, as explained in a video by the team's head coach E Bhaskaran.
"Hard work, unity, strength" is what assistant coach Ravi Shetty says has been the driving factor for U Mumba.
U Mumba also have the upper hand against the Bengal Warriors having beaten them by 11 and 13 points in the two league encounters this season.
Squads: U Mumba – Anup Kumar (C), Anoop EV, Prapanjan, Masayuki Shimokava, Pawan Kumar, Pradeep Kumar, Rishank Devadiga, Shabeer Bapu, Suresh Kumar, Vinod Paulyas, Jeeva G, Jeeva Kumar, Mohit Chhillar, Surender Nada, Vishal Mane, Bhupendra Singh, Jawahar Vivek, Abolfazel M, Fazel Atrachali, Hadi Tajik, Ravi Kumar.
Bengal Warriors – Nilesh Shinde (C), Felix Odhiambo Opnana, Jang Kun Lee, Kedar Lal, Mahendra Rajput, Mahesh Goud, Nitin Madane, Shrikant Jadhav, Umesh Mhatre, Vineet Sharma, Vijin, Nitin More, Bajirao Hodage, Chaminda, Deepak Dhull, Shyam Kumar, Deepak Kumar, Girish Ernak, Dinesh Kumar, Krushna Madane, Narendar Kumar.
Where to watch live:
The match between U Mumba and Bengal Warriors will begin at 9 p.m. IST (3:30 p.m. GMT), Friday, March 4.
Pro Kabaddi 2016 semi final 2: U Mumba vs Bengal Warriors can be caught LIVE on theStar Sports Network.
Hindi Coverage - Star Gold
English Coverage - Star Sports 2, Star Sports HD 2
Telugu Coverage - Maa Movies
Kannada Coverage - Suvarna Plus
UK viewers can catch the action on Life OK
Live streaming will be available on Hotstar and Starsports.com