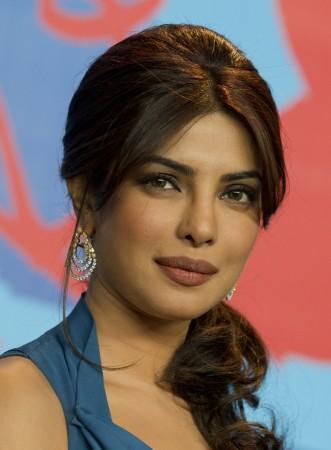 Pepsi' new promotional advertisement for the ongoing Indian Premier League (IPL) features Priyanka Chopra in a spiritual avatar. The ad also stars cricketer Chris Gayle.
With a long vermillion mark on the forehead, marigold pinned to her tresses, flashy bangles and necklace, gaudy make-up and red nail paint, Priyanka strikes as the quintessential 'desi' woman.
For an actress who has played with varied looks, the spiritual look comes as a refreshing change.
"I have played a lot of different characters in my films but I haven't played a spiritual diva yet! We had a lot of fun putting together this look. It's extravagant but goes perfectly with the idea" said the 30-year-old diva.
Speaking about her commercial she added, "It's cheeky, it's naughty and it captures the crazy kind of fan support for various teams."
The ad also sees Chris Gayle standing up for his Royal Challengers Banglore team.
A PepsiCo India statement said, "Pepsi is bringing together one of Pepsi IPL's biggest superstars, Chris Gayle along with Priyanka Chopra for the second edition of the campaign."
The new commercial will be aired on 18 April.
The previous Pepsi ad featured Ranbir Kappor and Priyanka Chopra.
Check out the new ad in the video below: