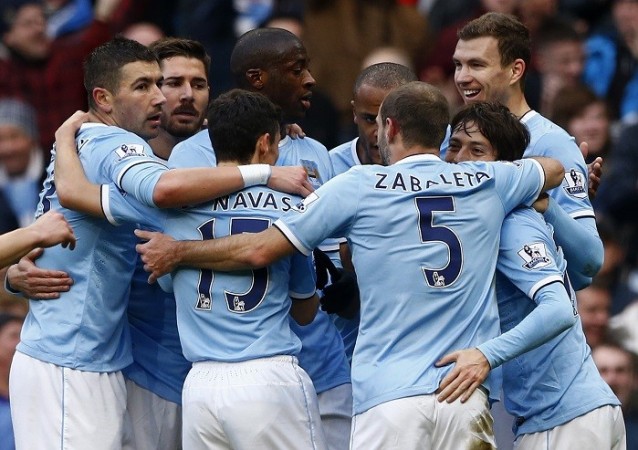 Manchester City's pre-season tour of the United States kicks off with a mouth-watering clash as the Premier League champions take on Major League Soccer titleholders Sporting Kansas City at the Sporting Park on Wednesday.
Overview:
Having succumbed to a 0-2 loss in their opening fixture against Dundee, the Citizens came back well as they registered a 2-1 over Hearts in their second game.
While Willy Caballero (new signing), Jesus Navas, Samir Nasri, Alvaro Negredo and Steven Jovetic were all unimpressive during City's first pre-season fixture, a late strike from Kolarov helped City edge Hearts in the second game.
The absence of key players Sergio Aguero, Pablo Zabaleta, Martin Demichelis, Fernandinho, Bacary Sagna (new signing) and Vincent Kompany as well as Joe Hart, James Milner, David Silva, Yaya Toure and Edin Dzeko (who will be joining City after their clash against Kansas) seem to make a big difference as City do not look like the team that won the Premier league title last season.
Nevertheless, the Citizens will certainly be a force to be reckoned with as the club's youth and reserve players look to prove themselves and catch the eye of manager Manual Pellegrini during the clash against Kansas.
The Chilean tactician, meanwhile, does not feel that the current City squad is complete and insists that they need to bring in some more talent this summer.
"I don't think the squad is complete yet but we have six weeks before the transfer window closes. Perhaps there is the option to bring one or more players in, or maybe one or two will leave our squad but there is time for us to consider what is best for our team," Pellegrini told Sky Sports News.
The manager also confirmed that Spanish striker Negredo, who underwent a surgery after suffering a broken foot during City's friendly clash against Hearts, will miss the first half of the 2014/15 season.
"Alvaro had surgery today on his broken foot and he will probably be out for two or three months," the City boss said. "It is a blow for us because Alvaro is a very important member of our squad so obviously we will miss him."
Meanwhile, Sporting Kansas, who were earlier known as Kansas City Wizards, have found a lot of success following their re-branding in 2011.
Apart from winning the MLS Cup last year, Kansas have also won a number of other trophies, including two successive MLS Eastern Conference regular season titles in 2012, 2013 and Lamar Hunt US Open Cup in 2012.
Despite not being in the same league as City, Kansas boss Peter Vermes, who became the first person to win the MLS Cup both as player and manager, will be hoping to see his side put up a good fight against the English giants.
However, regardless of which team wins, it will certainly be a very interesting game as both sides are known for scoring plenty of goals.
Where to Watch Live:
The match between Sporting Kansas City and Manchester City is set to kick-off at 9:00 pm (2:00 am BST and 6.30 am IST), and can be streamed live HERE andHERE.