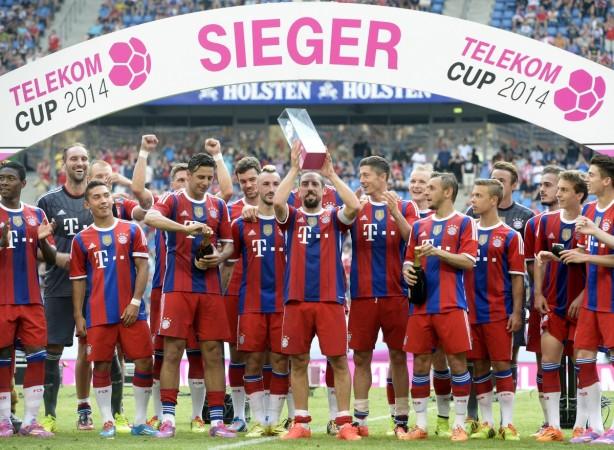 Bayern Munich take on MLS All-Stars tonight in a mouthwatering clash which will certainly have no shortage of goals, crunching tackles, pin-point passing and above all - lots of big name players.
Provided this game is a friendly and nothing is at stake, especially for the All-Stars, both sides will probably be looking to entertain ther fans rather than work out complicated strategies to win the game.
Overview
Despite being unable to continue their European dominance following a highly successful 2012/13 season, which saw them lift the treble (Champions League, Bundesliga and DFB-Pokal), new boss Pep Guardiola helped them win the domestic double, breaking a number of records on the way.
However, their dreams of successfully defending the Champions League title was brutally shattered after Real Madrid (who went on to complete La Decima) registered a crushing 4-0 win against them in their own back yard in the semifinal second leg.
Following the defeat, Guardialo was heavily criticised for trying to implement a tiki-tika style of play at Bayern. But the Spanish boss, who found plenty of success at Barcelona, insists that he is not trying to change anything at the Allianz Arena.
"I'm not here to change the culture of Bayern Munich or the German mentality and I have to learn to adapt to each other and in the same way to look forward," Goal quoted Guardiola as saying.
"I have to adapt to my players, I can't play like I want. Of course, I have an idea, but I have to know when we talk about the tactics first of all we have to talk about the skills of our players.
However, now with the arrivals of Robert Lewandowski (Borussia Dortmund), Sebastian Rode (Eintracht Frankfurt) and Juan Bernat (Valencia), the Bavarians seem to have become even stronger, winning five out of six fixtures in the preseason so far.
Meanwhile, the MLS All-Stars, who have beaten the likes of Chelsea (in 2006 and 2012), Fulham (2005) and Celtic (2007) in the past, will be no pushovers, even though they are not expected to win this fixture.
The MLS side will consist of some experienced players including Clint Dempsey, Thierry Henry, Landon Donovan, Jermain Defoe, Robbie Keane and Tim Cahill. And, All-Stars coach Caleb Porter feels that this game will be a tribute to these players' careers.
''It's a celebration of these players, their careers,'' Porter told Yahoo. ''Hopefully, we can make it a competitive game and try to make it exciting with a lot of good attacking players.''
Where to Watch Live
The match is set to kick-off at 9:30 PM EDT (2:30 am BST and 7:30 am IST), with live coverage on Sony Six in India. The game will be telecasted ESPN 2 and BT Sports 1 in the US and the UK respectively, with an option to stream HERE and HERE. The preseason game can be watched via live streaming online by international viewers HERE.