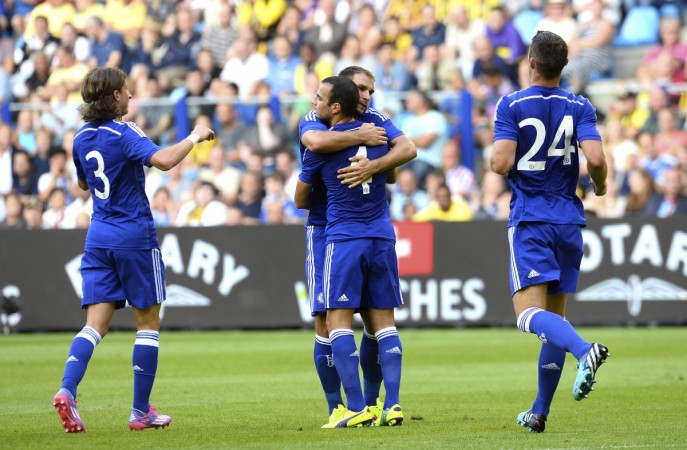 Chelsea continue their preseason tour of Europe with a friendly against Hungarian side Ferencvaros at the Albert Florian Stadium, Budapest on Sunday.
Overview
After a sting of good performances in their first five preseason fixtures, Chelsea seem to be losing their bearings, succumbing to two defeats in their last three games.
Their performance against Werder Bremen was especially disappointing, considering the strength of their squad. Players including Thibaut Courtois, Eden Hazard, Diego Costa, Cesc Fabregas, Nemanja Matic and Didier Drogba were powerless as the Blues succumbed to a 0-3 loss.
Although Mourinho was quick to point out that the referee, who gave two penalties to Bremen, was responsible for the defeat, Chelsea were poor in that game.
However, the west London club did much better in Turkey, where they played two 45 minute games against Fenerbahce and Besiktas in a charity mini tournament, hosted to benefit the families of the Soma mining disaster victims.
Against Fenerbahce, Mourinho chose to field a very strong side consisting of players including Andre Schurrle, Oscar (who recently re-joined the squad following the World Cup break), Hazard, Petr Cech, John Terry, Fabregas and Costa.
The match ended with Chelsea winning 2-0 as Costa and Branislav Ivanovic recorded their names on the scoresheet.
Although Chelsea suffered a 0-1 defeat in the second match, the Blues were clearly the better side as they dominated possession and created a fair number of chances.
Mourinho's men, who are favourites against Ferencvaros, will now be hoping to get a strong result before they head into their final preseason game against Real Sociedad.
Meanwhile, Ferencvaros, despite knowing that they face a very difficult challenge against Chelsea, will be hoping to at least salvage a draw.
Hungarian clubs have had very limited opportunities to take part in European competitions of late. Ferencvaros, who had earned a place in the qualifying phases of the Europa League by finishing third in the Nemzeti Bajnokság I last season, crashed out of the competition following their 1-3 (aggregate) loss to Croatian side Rijeka in the second qualifying round.
Still the club, which recorded a win and a loss in their opening two league games of the new season, will be hoping to put up a good show when they face the Blues on Sunday.
Where to Watch Live
The match between Ferencvaros and Chelsea is set to kick off at 7:45 pm BST (12:15 am IST and 02:45 pm EDT), with live coverage on beIN Sports in the US and Chelsea TV worldwide. The match can also be watched via live streaming online by viewers in India and the rest of the world HERE.