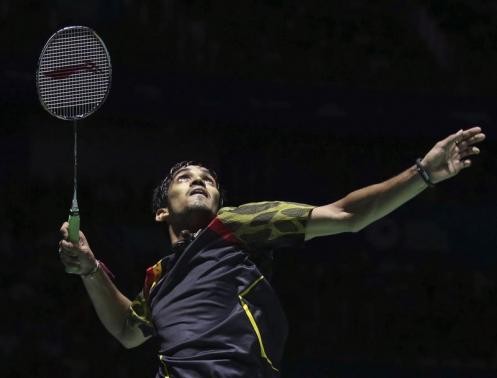 Top two male shuttlers of the 2016 Premier Badminton League — Kidambi Srikanth and Lee Chong Wei — are expected to be in action for their respective teams on Sunday as Bengaluru Top Guns face Hyderabad Hunters at NSCI on Sunday. Srikanth represents Bengaluru while Lee plays for Hyderabad.
The clash between Bengaluru and Hyderabad promises to be an entertaining one, with both teams having a decent mix of Indian and international names in their line-up. Lee is the standout name in the competition while Hyderabad also possesses the likes of Parupalli Kashyap, a regular in Super series events, to make them a formidable unit.
Hyderabad will also be expecting some good things from their doubles specialist Jwala Gutta, who is expected to play an important role in the doubles arena during the 2016 Premier Badminton League.
Bengaluru, on the other hand, also possesses a brilliant doubles player in the form of Ashwini Ponnappa, who could partner Joachim Fischer Nielsen or Scottish Robert Blair in the mixed doubles. Irrespective of her partner, Ponnappa, with her aggressive game, should liven up the crowd.
"Both Fischer and Blair are experienced international mixed-doubles players, and I am delighted to play with them as it gives me an opportunity to improve my game," PTI quoted Ashwini as saying.
"I had a great time playing with Fischer the last time around which makes it easy for me. But having said that, I have practised with Robert for the past few days and playing with him is also proving to be a great experience."
The tournament may not have the big names of world badminton, but it will give the Indian players a chance to impress and learn from experienced players in the circuit.
Bengaluru coach Arvind Bhat is pretty happy with the Indian players in his squad.
"Our Indian contingent will definitely benefit a lot from the tournament, and the whole experience of playing with other players rather than against each other will be extremely valuable," said Arvind.
Teams
Bengaluru Top Guns
India players - Anand Pawar, Sameer Verma, Kidambi Srikanth, B Sumeeth Reddy and Ashwini Ponnappa
Foreign - Suo Dui, Tan Boon Heong, Koon Kien Keat, Joachim Fischer Nielsen and Robert Blair
Hyderabad Hunters
India players- Siril Verma, Parupalli Kashyap, Jwala Gutta, J Meghana, K Nandagopal and R Satwik Sai Raj
Foreign - Markis Kido, Lee Chong Wei, Supanida Katethong and Carsten Mogensen
Where to watch live
Bengaluru Top Guns vs Hyderabad Hunters is scheduled for 3 pm IST. Viewers in India can watch the entire match live on Star Sports 2/HD (English), Star Sports 3/HD (Hindi) with live streaming option on Starsports.com. Bengaluru Top Guns vs Hyderabad Hunters live-streaming is also available on Hotstar.