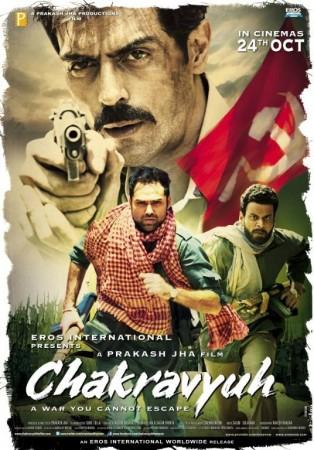 Prakash Jha is back with an all-new political thriller and has chosen Naxalism as the theme for his latest movie "Chakravyuh". The theatrical trailer of the movie was released on Aug 16 on YouTube.
The film features Arjun Rampal, Manoj Bajpayee, Abhay Deol, Om Puri, Esha Gupta and Anjali Patil. Arjun Rampal is playing a courageous cop in the film. Sporting a moustache at recent events, the actor apparently wanted to get into the skin of his character.
"Chakravyuh" is the story of two best friends Adil (played by Arjun Rampal) and Kabir (played by Abhay Deol). Esha Gupta, who plays Rhea Menon, essays the role of an IPS officer and as Arjun's wife in the film.
"I play the part of a police officer who is a third generation cop. His family has been in police. He is very righteous, but character goes through a dilemma. It is like a cop who wants to do his duty but finds himself in a Chakravyuh," Arjun said during the launch of the trailer.
"I am happy that I am doing this film it's a beautiful script. It deals with issues that are relevant in today's time about the Naxal movement that is happening in our country. It is very relatable, strong and powerful subject. This issue is something people should know which will be dealt in the film" Hindustan Times quoted Arjun as saying.
"This is an extremely topical film as it is set against the backdrop of Naxalism, yet, it's a beautiful story about two friends," Arjun added.
Abhay plays the role of a young rebel and as Arjun's friend in the movie. Manoj Bajpayee and new-comer Anjali Patil both play roles of Naxalite leaderers, whereas Om Puri plays the role of a professor.
The movie was shot in Panchmarhi and Bhopal, and is scheduled to release on Oct 24.
Watch the trailer here: