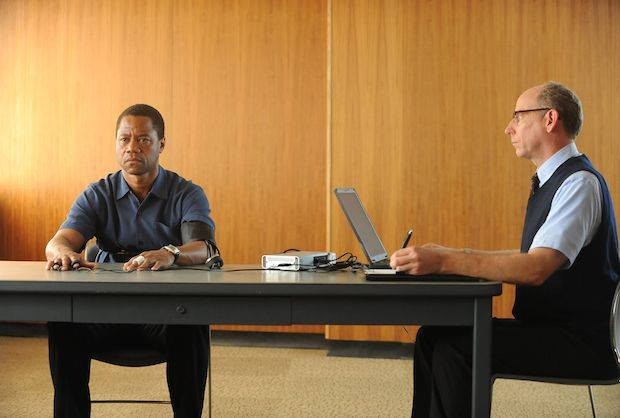 O.J. Simpson (Cuba Gooding, Jr.), the American football player's trial will be depicted in Season 1 Episode 3 of "The People v. O.J. Simpson: American Crime Story." The latest episode titled "The Dream Team" will focus on Simpson's efforts to put together a brilliant defense team.
In last week's episode, Simpson, who is referred to as "The Juice" on the show, sped on the San Diego freeway instead of turning himself in. Later on in Episode 2, he finally surrendered at his Brentwood Home. Simpson was arrested for the murder of his ex-wife Nicole Brown Simpson and her friend Ronald Goldman. Fans of the show will remember that the football player often expressed his anxiety at the thought of spending time in prison.
When Episode 3 returns, Simpson's trial will be the centre of the plot. Public prosecutor Marcia Clark (Sarah Paulson) will not shy away from pressing strong charges against him. In the promo, she is asked if Simpson will get a death penalty and the lawyer responds, "I'd say everything is on the table."
However, a recent Hidden Remote article claims that Clark will face internal issues and this will create problems as she's pursuing the case against Simpson.
Elsewhere in the episode, Robert Shapiro (John Travolta) will use his contacts and put together Simpson's defense team. Shapiro will seek advice from F. Lee Bailey (Nathan Lane) and will include Alan Dershowitz (Evan Handler), Robert Kardashian (David Schwimmer), Gerald Uelmen, John Yahoe and Carl E. Douglas.
Nonetheless, Shapiro will need an important lawyer in the defence team. He will approach Johnnie Cochran (Courtney B. Vance), who previously said that he would not represent Simpson since it was a case he'd lose. Nevertheless, history suggests that he will change his mind. What does Shapiro say to coax Cochran?
Season 1 Episode 3's synopsis released via TV Guide reads:
"Marcia reveals O.J. is charged; Robert Shapiro seeks advice from F. Lee Baily and creates a provocative strategy and tries to convince O.J. to hire Johnnie Cochran."
"The People v. O.J. Simpson: American Crime Story" Season 1 Episode 3 airs Tuesday, Feb. 16 at 10 p.m. on FX. You can live stream the episode via FX website.