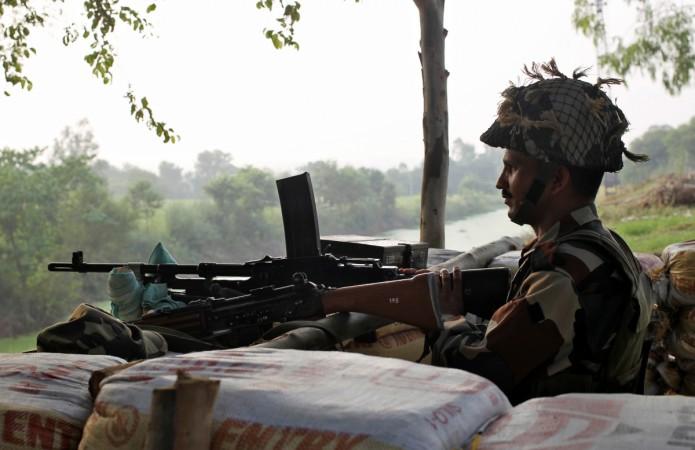 Pakistan on Sunday, June 4, released yet another video which it claimed showed the destruction of Indian posts along the Line of Control (LoC). However, a defence analyst has told IBTimes India that Pakistan may have only destroyed unmanned superstructures, despite Pakistan Army's claim that it killed five Indian soldiers.
Indian Army has already denied the claims by Pakistan. Sources within the armed forces have been quoted by NDTV as saying: "The tweet by ISPR [Inter-Services Public Relations] is wrong." ISPR is the public communication wing of the Pakistani armed forces.
Pakistani claims
Major General Asif Ghafoor, official spokesperson of Pakistan Armed Forces, in the early hours of Sunday tweeted a 27-second video which claims to show the destruction of Indian posts along the LoC. The video is ot very clear, and what is seen can best be desribed as some small structures being destroyed, with no missile visibly hitting them.
An official statement from ISPR also said: " Indian unprovoked CFV [ceasefire violation] at Tatta Pani along LoC violently responded. Indian bunkers destroyed, five Indian soldiers killed, many injured."
Watch the video here:
Ref PR285/17
Video clip showing destruction of Indian posts on LOC by Pak Army in response to unprovoked Indian firing on innocent citizens. pic.twitter.com/ceErT8KzlC

— Maj Gen Asif Ghafoor (@OfficialDGISPR) June 3, 2017
What actually happened?
Defence analyst Lt Gen HS Panag (retd) told IBTimes India that what may have been destroyed in the videos are mere "superstructures." He said: "All of India's defences along the LoC are underground. Nothing sticks out like a sore thumb. What may have been destroyed [by Pakistan] are unmanned superstructures that are above the ground and used by Army personnel for their day-to-day work."
He also said that this was a "futile exercise", and that such firings by Pakistan rarely result in casualties. "They continue throughout the year, and are called LoC warfare. Not much importance should be attached to them," he told IBTimes India.
Not the first time
Pakistan had released a similar video on May 23, claiming that it had hit several posts on the Indian side of the LoC. The video had been thoroughly debunked over a number of causes, the primary of them being it showed explosions at the base of the structures being hit, which would not have happened had a missile hit them.
Even Lt General JS Sandhu, who is responsible for India's defences within 400 km of the LoC in Jammu and Kashmir, had told NDTV that "these are inflated statements" made by Pakistan.