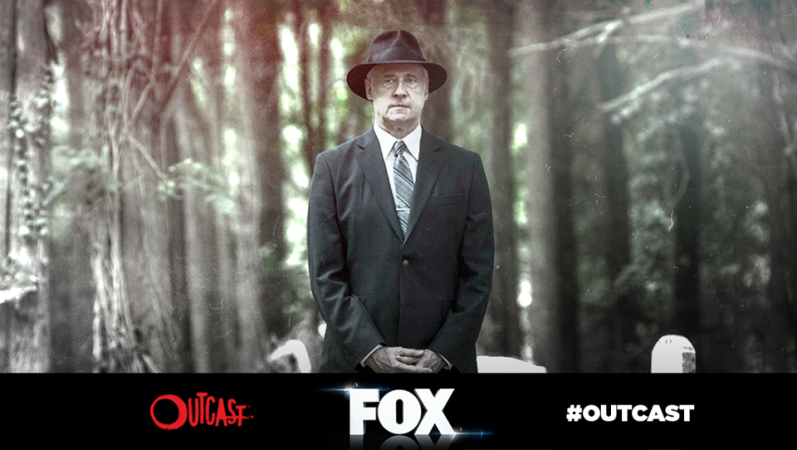 Based on the promo for this Friday's episode of "Outcast," it is going to be a gripping one, with Kyle being forced to take matters into his hands to prevent darkness from engulfing the entire town. Kyle has the skills required to prevent these frequent demonic possessions, but he hasn't been enthusiastic about doing his part, and it looks like "From the Shadows It Watches" will see the protagonist Patricia reaching out to him and goading him to act.
The episode will also see Sidney, who is known as The Devil or the leader of the demons, issuing a warning to Anderson to stop these exorcisms. But Anderson and Kyle won't heed to these warnings. As usual, the synopsis for the sixth episode of Season 1 does not reveal much about the plot.
Here's what it says: Rev. Anderson (Philip Glenister) finds his powers sorely tested; Patricia (Melinda McGraw) reaches out to Kyle (Patrick Fugit); Sidney (Brent Spiner) delivers a warning.
Interestingly, "From the Shadows It Watches" is also the title of Issue 2 of Robert Kirkman's "Outcast" comic series, which is the source material for the television show. The second issue deals with Kyle's visit to his mother, who has also been troubled with demonic possessions. The previous episode revealed to viewers that Kyle's wife Allison was also possessed and there was a time when she used to hurt their daughter.
"The Road Before Us" also revealed that Reverend Anderson wasn't as successful in his exorcism attempts. All the people he thought he cured were faking it and it showed Kyle that he has what it takes to drive the demon out of a victim's body.
"Outcast" airs Fridays on Cinemax. CLICK HERE to watch the episode online.