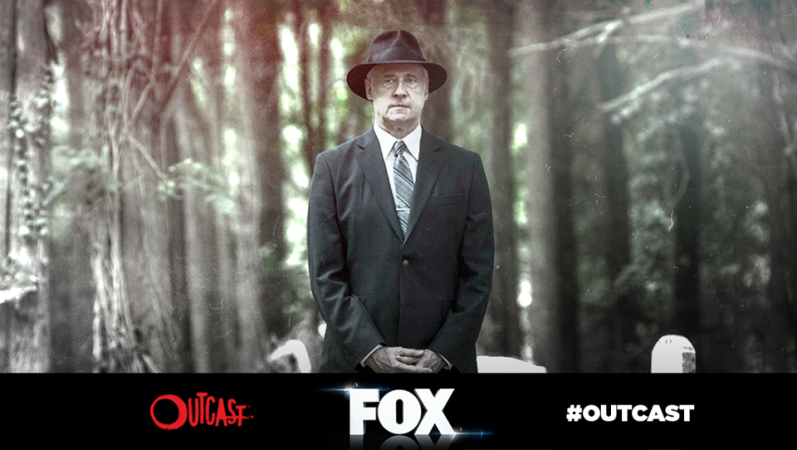 Season 1 of "Outcast" has just two more episodes before its grand finale, which will feature a confrontation between Kyle and Sidney. The next episode titled "What Lurks Within" will see Kyle taking drastic decisions that will affect the story moving forward.
Episode 8 is one of my favourite episodes. It features quite a lot of scenes with Brent Spiner," Patrick Fugit revealed to Entertainment Weekly during San Diego Comic-Con. "Throughout the next few episodes we see the character start to make decisions that are irreversible and have extreme consequences that are pretty awesome.
The official synopsis for "What Lurks Within" doesn't reveal much about what's in store for the characters. It just reads: "Rev. Anderson finds himself increasingly alienated; Kyle has a stunning revelation from Sidney."
The previous episode saw Reverend Anderson nearly losing his faith and having a near meltdown during Rememberance Day. But Kyle steps in and reminds him that they are in the battle together. Their biggest challenge now is to drag Sidney out from the shadows.
The episode also saw Allison finally finding out the truth about the night her marriage with Kyle ended, and this resulted in her leaving their daughter in Kyle's custody.
The show is based on Robert Kirkman's comics of the same name and according to him Season 2 of the show could diverge from its source material. There's also ample scope to flush out certain characters that don't receive much attention in the books.
"There's a lot of room to build up characters that don't necessarily have as much to do in the comic, and there's a lot of paths that we can diverge on along the way," Kirkman told Entertainment Weekly. "When you look at where the comic ends up and where the show ends up, they're gonna be on a fairly similar path but there's gonna be a lot of differences along the way."
"Outcast" airs Fridays on Cinemax. Viewers whose cable or satellite subscription includes Cinemax can stream new episodes using MAX GO online. The MAX Go app is available for download on iPad, iPhone, iPod and Android smartphones.