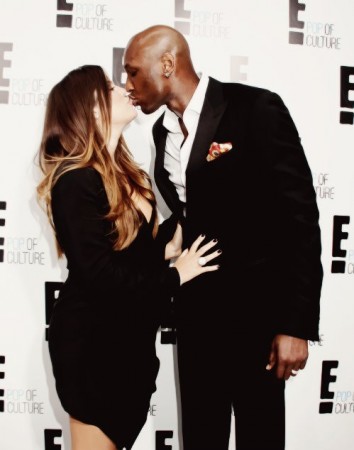 Looks like Lamar Odom is still not sure who he wants as his life partner. After making news for pursuing his ex-wife Khloe Kardhashian, it has come to fore that the NBA star is trying to hook up with the mother of his children Liza Morales. Apparently, Odom made a phone call to Morales in a devastated state after returning from Spain. The NBA star was playing in Spain, from where he had to make an emergency return after injuring his back.
"He got dirty with Liza over the phone, acting like he wanted to hook up with her again," a source revealed, to In Touch Magazine, according to Radaronline. "Liza laughed at him. But if he's trying to get things better with Khloe, she'd better watch out, because Lamar is still creeping."
Odom has been pursuing Kardashian relentlessly since the latter filed for divorce in November last year. In a press conference for his Spanish team, Odom said that he still considers the 29-year-old his wife and hopes that the divorce doesn't go through.
Moreover, sources had also reported that Odom has been frequently talking to Kardashian and is desperate to go to Kim Kardashian and Kanye West's wedding as her date.
"He knows Kanye and knows how bomb and off the chain his wedding is going to be," a source close to Lamar said. "It's going to be one big party and he'd love to go and be with Khloe too but he hasn't been invited though, " reported Hollywoodlife.
Meanwhile, Khloe is busy focusing on her life and is appearently in no mood to rekindle her romance with Odom and is taking all the necessary steps to build a separate life.
For starters, she has already moved into her new home in Calabasas, California, and is busy renovating it. Media reports have also implied that she will be making a stag appearance at Kimye's wedding, as she is no mood to bring anyone as her date.