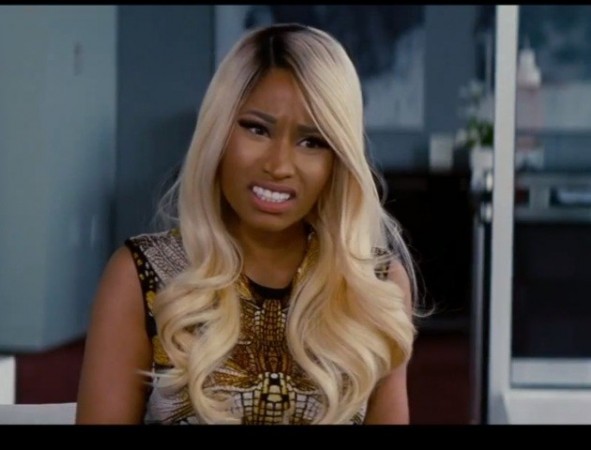 The first trailer of Cameron Diaz's upcoming movie "The Other Woman" is out and it ensures a large doze of fun and a small doze of Nicki Minaj.
The 'Starships' hitmaker is making her movie debut in the film, which looks like it has drawn a lot of inspiration from the Ranveer Singh starrer "Ladies Vs. Ricky Behl."
Minaj appears perfectly comfortable, tackling the supporting role with ease. Given her pedigree in Performing Arts, acting must not be a hard task to handle. In the trailer, Minaj is playing Diaz's assistant and helps her plot revenge against her boyfriend who is married and also cheating on his wife with several other women.
Cameron Diaz, Leslie Mann and Kate Upton play the ladies who want mutual revenge from the one man who has been playing them all, Nikolaj Coster-Waldau. The movie is slated for an April 2014 release.
Check out the trailer below:
What "The Other Woman" and "Ladies Vs. Ricky Behl" have in common
The plot and characters have a lot in common. Looks like Cameron Diaz is playing the role of Dipannita Sharma and Leslie Mann's character is loosely based on Aditi Sharma's role of Saira – the wife. Kate Upton is portrayed as the young, impulsive and a little dumb Dimple Chaddha played by the bubbly Parineeti Chopra. All of them are in love with Ricky, here portrayed by Waldau.
When the women find out he has been cheating on all of them, they decide to get together and take revenge.
What is different?
While Ricky is swindling money from the ladies, Waldau seems to be looting his business partners. However, there is no particular fourth lady- the pawn in the film, the role portrayed by Anushka Sharma in the Bollywood film. The trio are enough for Waldau. Plus, there is Leslie's brother, who Cameron is attracted to later in the movie. There was no brother in the Bollywood one.
"Ladies Vs Ricky Behl" was a rip off itself?
When the Yash Raj movie released, there was a lot of speculation on its script being a rip off of the 2006 Hollywood comedy "John Tucker Must Die". But in their defense, a source close to Anushka told IndiaGlitz.com:
"You know what, it's really sad but true that the first thing when a film is announced, so many out there want to start drawing parallels with what has already been made, whether in-house or in West. No one cares a thought around the fact that the team would have in fact worked hard on making an out and out original product."
Check out the trailer of "John Tucker must Die" below and decide for yourself: