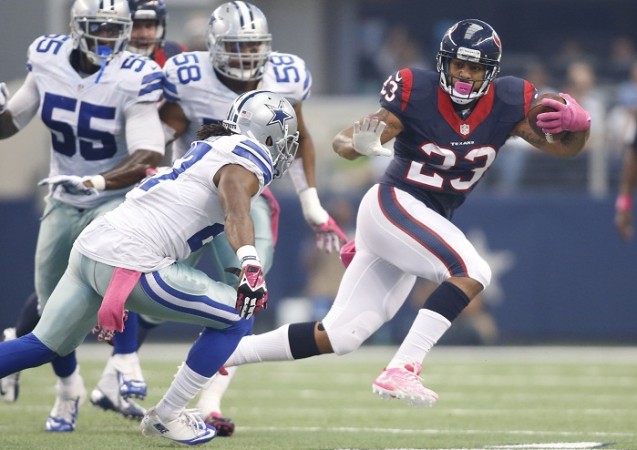 The Houston Texans will be desperate for a win and a sole lead in the AFC South when they host the in-form Indianapolis Colts on Thursday at the NRG Stadium.
The Texans are coming off a 20-17 overtime loss to the Dallas Cowboys, and have dropped two of their last three games after making a 2-0 start to the NFL season.
To exacerbate matters, the Houston Texans do not have the greatest of records playing on Thursday nights, and their main man Arian Foster is certainly not looking forward to playing their second game in just four days.
"It's annoying for players," the running back was quoted as saying by the Associated Press. "I don't know one player that likes it.
"I really don't know a fan that likes it, either. I think it's just the league's way of trying to generate more revenue.
"Nobody is ready to play physically after a Sunday game. But you've got to go out there and do it."
Foster, though, will look forward to playing against the Indianapolis Colts, a team he particularly likes playing against. Foster has averaged a massive 150.4 yards per game in five previous meetings against the Colts, and Chuck Pagano's run defence will have to be at their absolute best to stop the Texans RB from marauding past them again.
"The thing you have to do against him is you've got to play a complete game, because if he touches the ball 25 times, it only takes one or two hiccups here or there where a guy gets nosy, he's doing his job and then he thinks he's got to go make a play and he just peeks, and he sticks his nose in somebody else's gap and then you've got two guys in the same gap, and then he hits you for 60, 70 yards," Colts coach Chuck Pagano told ESPN.
"Then it's over, and then before you know it he's got 150 on you rushing. So it's got to be down after down after down, guys just doing their job.
"You don't have to do anybody else's, just do your job. Eleven guys, do your job, period. Play as hard as you can. If you do that, I don't care who you play, you'll have a good chance of playing good run defense."
The Colts are in prime form at the moment, having won their last three games after a difficult 0-2 start. Both teams are 3-2 after five games, and a positive result will give the winning team prime position in the AFC South.
"It's a huge game for us," Texans offensive tackle Duane Brown said. "The good thing about the Colts is that we're very familiar with them.
"Of course you have a different game plan than we've had in years past, but as far as the personnel and things like that we kind of know what to expect. So that makes it a little bit easier, but it's never easy."
Where to Watch Live
The game is scheduled to begin at 8.25 pm ET (5.55 am IST, 1.25 am BST) with live coverage in the US on CBS and the NFL Network. Viewers in the US can also watch the NFL game via live streaming online on Watch CBS, CBS Sports Online or NFL Network Online.
There is no live coverage on TV in India, but audience in the UK can catch all the action live online on Sky Sports 2. Viewers can also catch the game via a live stream on Sky Go or Sky Sports Online.