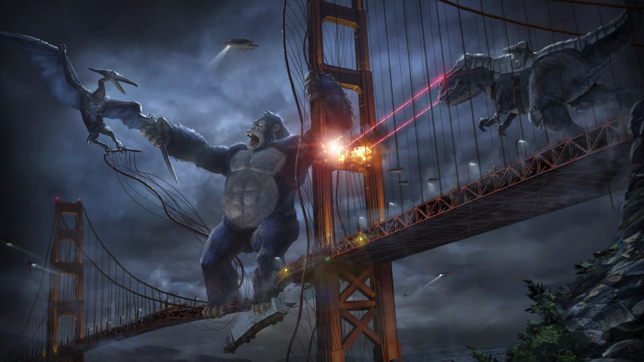 The latest Netflix CGI series "Kong: King of the Apes" is all set to air on April 15. The story will feature the character of Kong in a future setting where he will fight with new monsters including robotic dinosaurs.
CLICK HERE to watch all the episodes of "Kong: King of the Apes" Season 1 live online.
The synopsis of the series, as stated in Netflix press release, reads:
"Set in 2050, Kong is still the strongest creature ever born with many human traits that make him the ultimate iconic hero. In 'Kong,' the future looks bright for San Francisco's Alcatraz Island since its transformation into the most impressive natural history and marine preserve on the planet.
"But when the star attraction suddenly goes ape and Kong becomes public enemy No. 1, the villain that framed him is free to unleash an army of gigantic robotic dinosaurs on the unsuspecting world. Ironically, Kong is the only force formidable enough to stop these super-powered dinosaurs and the evil genius manipulating them.
"But Kong is now the world's most hunted fugitive. Fortunately, there are three young humans who know the truth and are willing to risk their lives to help Kong evade capture, while he battles to save humankind."
"Kong: King of the Apes" has been produced by Avi Arad who is known for producing Marvel movies such as "Spider-Man" and "X-Men."
As reported by Entertainment Weekly, Ted Sarandos, Netflix's Chief Content Officer, said: "We're thrilled to be working with Avi who has made some of the most successful action and adventure franchises today and whose 'Pac-Man' and the 'Ghostly Adventure' series has been very popular on Netflix around the world.
"With 41 Entertainment as our partner on this, we continue to work with some of the finest animation studios around the world to create shows that will appeal to kids of all ages globally."
Talking about the series, Arad said: "I always loved King Kong. This is a unique opportunity to introduce him in brilliant CGI animation to kids worldwide with the power of Netflix."