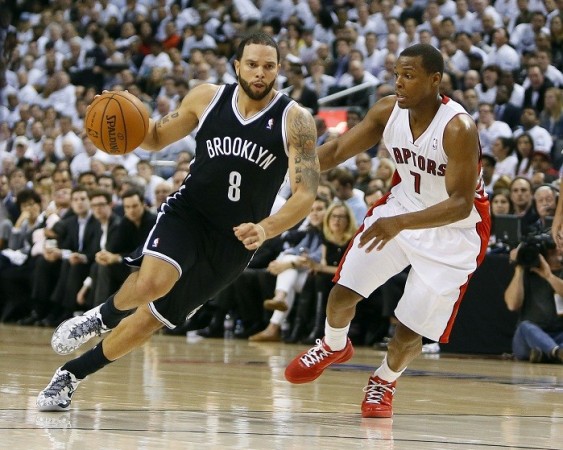 The Toronto Raptors are set to lock horns with the Brooklyn Nets in the third playoff game of round one. Raptors have proved that they can handle the pressure, as after going down in the opening postseason tie, they managed to level the series in the second game.
Nets played well in the second game and almost snatched a victory. After going down in the opening game, Raptors bounced back to level the series courtesy All-Star DeMar DeRozan, who finished the game with 30 points.
The home-court advantage could fall in Nets' favour as they are a very difficult side to beat at home. Brooklyn won 15 consecutive games and were invincible at home in the regular season for two months only to go down in two games after sealing a playoff spot.
However, Nets know that home-court advantage will not guarantee them a victory. "We understand that this is not going to be easy by any means," Nets veteran Joe Johnson said. "You just look around throughout the playoffs, a lot of teams have been losing at home."
Toronto coach Dwane Casey feels much will depend on how his young team handles the pressure of playing in a big arena.
"Being a young team, it's very unusual, because I've been with older teams that some of their eyes get big in places like Oklahoma City and back in the day, in Portland," Casey said.
"So again, it's a trait they have that you can't put your finger on why they have some resolve that they do on the road. But this is going to be the first playoff atmosphere that they have and it's going to be exciting to see how they react under the bright lights."
DeRozan believes Toronto is heads into game as underdogs. "We understand, you want to call the underdog, whatever you want to call it, we go in there with that mindset. We feel like everybody's against us and we're out there to go against everybody," he said. "That's our mindset, honestly, every time we step on the road."
Nets coach Jason Kidd said Paul Pierce might have had a tough outing in the last game, but he is doing everything right. He added the 2008 NBA Finals MVP, Pierce, is a smart player and there are no concerns about his form.
"No matter what he shot in the last game, he had great looks and they just went in and out, and so there's nothing in the sense of changing what Paul's going to do," Kidd said. "He's a very smart player, he understands time and situation and... there's no concern."
Where to Watch Live
The game is scheduled for a 7:00 pm ET (4:30 am IST, 11:00 pm GMT). The game can be watched via live streaming online in the US HERE. The game can be live streamed by international viewers, including India, HERE.