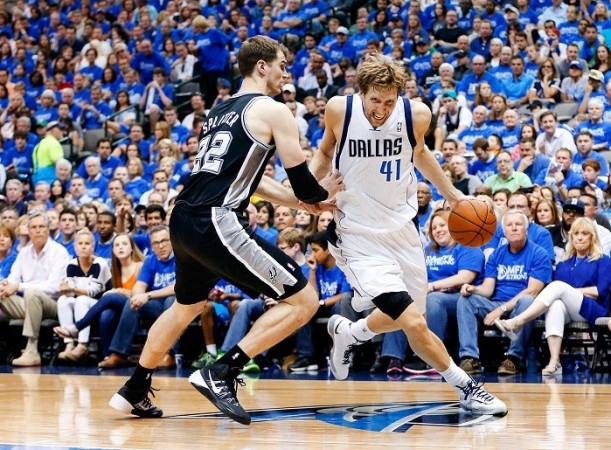 The top-seeded San Antonio Spurs will be hoping to even the series against the Dallas Mavericks with victory in Game 4 of their Western Conference first round series. It's not going to be an easy task for Spurs, as Dallas is high on confidence after registering consecutive wins over the top-seeded Spurs.
The third game could have been won by the Spurs, but a buzzer-beating three-pointer from Vince Carter sealed it for the Mavericks. Ginobili said these things happen and they cannot sit back and think about it all the time. He added that the team will have to play better and go for the wins.
"On a tough blow like this one, having been there, having suffered way worse than this, can help," Ginobili said. "Nothing is going to help if we don't make it help. Things are not going to just change because we were one, they were eight or things like that. We've got to go for it and play better."
Both teams are good offensive sides, and shot better than 50 per cent in the last game, but strengthening the defense would be key in the crucial fourth game.
Dirk Nowitzki said Dallas has to execute its plans effectively in the upcoming games, as they were not effective in the last game compared to the first two encounters.
"We stole one," Nowitzki said. "We didn't execute quite as well as we did in the first two, especially the defensive game plan. I think Monta [Ellis] and Vince bailed us out a little bit the last couple of minutes with some great plays."
A lot will depend on Spurs' 'big three' Tony Parker, Tim Duncan and Manu Ginobili. But Parker looked tired in the second half and scored just two points with no assists, eventually finishing with 17 points and six assists.
"He looked pretty tired in Game 3," Devin Harris said. "Obviously he exerted himself pretty much in the first half but we've got to continue to try to make him grind for his points as well as guard us on the other end. And I think so far we've done a good job of that."
Where to Watch Live
The game is scheduled for a 9:30 am ET (7:00 am IST, 1:30 pm GMT) start with live coverage on TNT in the US and Sony Six and Sony Six HD in India. The game can be watched via live streaming online in the US HERE. The game can be live streamed by international viewers, including India, HERE.