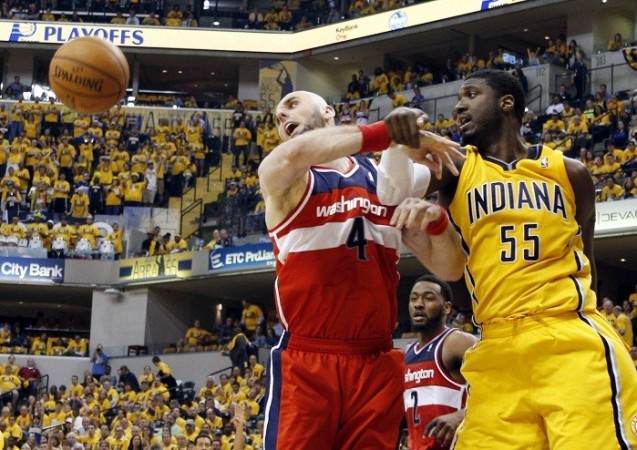 The Indiana Pacers need to rethink their strategy after going down in the first game of the Eastern Conference semifinals to the Washington Wizards. The 102-96 scoreline looks rather close, but it wasn't the case with the Wizards running away with the game in the first half.
In Game 1, Washington looked in great shape and scored a number of three-pointers to increase their lead. Bradley Beal in particular played a crucial role in extending the Wizards' lead with his long-rangers. The Pacers have to find a way to stop the Wizards, especially long-range sharpshooters Trevor Ariza and Beal.
All-star Roy Hibbert is clearly out of form and hasn't been able to produce anything spectacular for the Pacers, but he needs to show a lot more intent in the second game to keep his team in the contest.
"We tell Roy all the time how much we're going to need him in this series and this playoff run," Paul George said. "You know it's up to Roy to just come through and deliver for us."
Hibbert, who faced foul trouble early in the first game, ended without any points or rebounds in the losing cause. However, the 27-year-old is hopeful of putting up an impressive outing in the all-important second game.
"I'll just try to be a little more aggressive on both ends and just not be content with letting their guards and forwards get defensive rebounds," Hibbert said. "I've got to do a good job putting a body on Nene and [Marcin] Gortat, so I'm just going to go out there and pursue."
Indiana coach Frank Vogel is convinced Hibbert will be more effective in the upcoming game and help them even the series.
"I think mentally he wants to do more," Vogel said. "He's giving maximum effort, and he's going to continue to study (film) to see how he can be more productive.
"If Roy Hibbert is on the court," Vogel added, "it's because I think he can help us win the next possession in that stretch of that game and help us win that game."
Washington's Gortat, who had 12 points and 15 rebounds in Game 1, said they won't allow Indiana easy runs in the paint.
"We try to make sure none of their bigs are going to catch the ball in the paint easily, try to make their life a little bit harder and miserable," Gortat said.
Where to Watch Live
The game is scheduled for a 7:00 pm ET (4:30 am IST, 11:00 pm GMT) start with live coverage on TNT in the US and Sony Six and Sony Six HD in India. The game can be watched via live streaming online in the US HERE or HERE. The game can be live streamed by international viewers, including India, HERE.