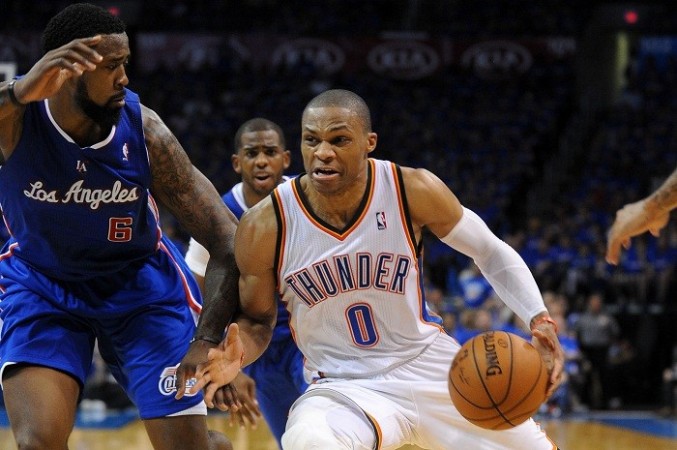 The Los Angeles Clippers, after registering a dominating victory over the Oklahoma City Thunder in the first game of the Western Conference semi-finals, will be hoping to keep the winning momentum going to take a 2-0 lead.
Stopping Chris Paul, who finished with 32 points, including five three-pointers, is going to be a tough task for Oklahoma. Despite suffering from a right hamstring injury and left sprained thumb, Paul still helped the Clippers to a big win.
Paul said he is not concerned about how many points he scores, as he is only concentrating on winning games for his team.
"The next game, I might have 12 points, 10 points, maybe not even that many," Paul said. "I think I'm one of those people - whatever it takes to win. I don't care. I'm never going to lead the league in scoring or anything like that. It's just whatever to try to win."
Oklahoma's Nick Collison said his team is going to defend better in the second game to put additional pressure on Paul.
"When he's hitting 3s like that, it's tough," Collison said of Paul. "We can definitely make it more difficult on him than we did (Monday). I think that's where our focus is going to be, is how can we defend better?"
Paul is not the only concern for Oklahoma, as the Clippers features a number of offensive options like Blake Griffin and Jamal Crawford who gave plenty of problems to the Thunder in the previous game.
Oklahoma are not short of offensive options either, as they have newly crowned MVP Kevin Durant and Russell Westbrook. Durant is averaging 32 points this season, while Westbrook was the top-scorer in the last encounter against the Clippers.
Durant said a little more effort is required in the second game and they have to be more physical. "The effort was there," Durant said. "We had good intentions, but they got hot. We have got to correct it. We have to make them miss next game and be a little bit more physical."
Clippers coach Doc Rivers said they have to be quick on the ball just like Game 1. "The ball didn't stick," he said. "The ball moved. Everything was quick. Quick decisions, quick drives, quick shots. There was not a lot of hesitation. If we play like that, we'll be good."
Where to Watch Live
The game is scheduled for a 9:30 pm ET (7:00 am IST, 1:30 am GMT) start with live coverage on TNT in the US and Sony Six and Sony Six HD in India. The game can be watched via live streaming online in the US HERE or HERE. The game can be live streamed by international viewers, including India, HERE.