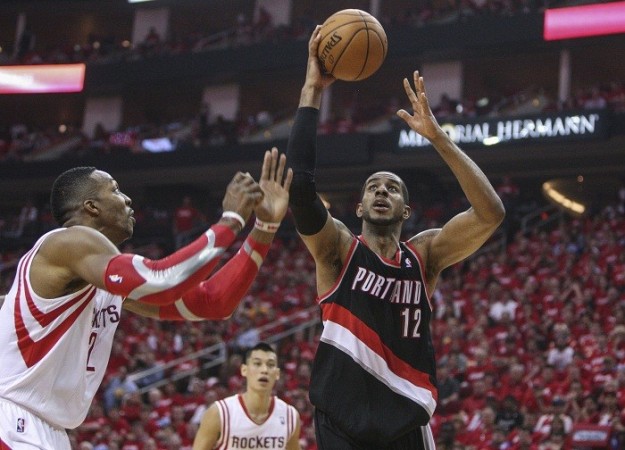 Houston Rockets will be looking to square the seven-game NBA playoff series against Portland Trail Blazers after losing the first game by a whisker. Rockets, who were leading at one point of time in the fourth quarter, blew their lead to go 1-0 down in the series.
Damian Lillard and LaMarcus Aldridge led the Blazers as they scored 31 and 46 points, respectively, while James Harden ended up with 27 points with Dwight Howard finishing with 27 points and 15 rebounds for the Rockets.
The first game was all about offense, as no team was too concerned about the defensive side. It proved difficult for Portland to stop Harden from taking shots in the first tie, but they have to keep a check on him in the Game 2.
Blazers coach Terry Stotts said that they know it won't be easy to stop Harden, but his team is determined to limit his attempts at the rim.
"That's what he does and we just need to make them difficult," Terry Stotts said. "We need to contest them and do as good a job as possible. ... He's going to get his shots, but we've got to find him in transition, we've got to limit his attempts at the rim, do it without fouling, all of those things."
"Just try to stay close to him because he's very good in transition," Aldridge pointed out. "He's very good at that pull-up 3, he's good at getting to the line, just trying to make all of his looks tough and don't give him any space."
Rockets coach Kevin McHale feels that their problem is not limited to Harden, as they failed to perform as a unit. "It was just a lot of settling for shots," McHale said. "Just looking at their faces, they were almost all hyperventilating. They were all jacked up and juiced up to go and we didn't play very well."
"We were really cognizant of trying to take the 3-point line away, probably too much so," McHale said. "We didn't dig, we didn't help. We didn't do a lot of things."
Howard said the team is not affected by the loss in the first game, as the series is not over and they just need to keep their composure for the remaining matches.
"We lost a game we should have won but we've got a brand new game," Howard said. "The series is not over ... there's no need to put our heads down. Just stay together. We didn't let any negative thoughts get in our head. Don't let this one game dictate how we're going to play for the rest of the series."
Where to Watch Live:
The game is scheduled for a 9:30 pm ET (7:00 am IST, 1:30 am GMT) start with live coverage on TNT in the US and Sony Six and Sony Six HD in India. The game can be watched via live streaming online in the US HERE or HERE. The game can be live streamed by international viewers, including India, HERE.