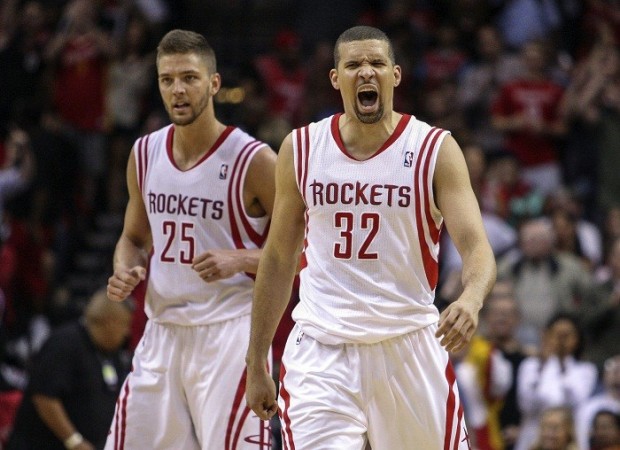 Perhaps the most similar units of the NBA playoffs, Portland Trail Blazers and Houston Rockets will face each other in the seven-game postseason series. There is always a very less to chose between number four and five teams, with just two wins separating them in the regular season, still Houston hold a decisive edge over Portland.
Both Portland and Houston are offensively strong units with plenty of firepower, but the latter holds the edge in containing the opposition, which could prove decisive. Defending is not Portland's forte, as in each game they have given 45.8 points in the paint, only less than Minnesota Timberwolves (45.9) and LA Lakers (49.3).
Dwight Howard and James Harden have contributed heavily in Houston's success in the Western Conference. On the other hand, LaMarcus Aldridge and Damian Lillard form the core of Portland's offence. Portland will have to display stingy defense against Howard and fortress the low post with clinical defending.
It is going to be a physical series with a number of three pointers and utilising every possible advantage, this series will be a feast for fans with plenty of scoring on the cards. Houston are expected to advance into the next round.
The Rockets feature a number of players with playoffs experience and All-Star Harden is convinced that last year's postseason experience will come handy for them in critical situations.
"I think last year that first-round playoff series gave us a little taste of what it feels like to be in the playoffs," Harden said. "So hopefully we're familiar with the playoffs and whatnot and we go out there and just play basketball."
This is Portland's first appearance in playoffs since 2011, which might go against them. However, point guard Damian Lillard, who is making his first playoffs appearance, is confident of a good show.
"I'm just going to try to go into it and play it like another basketball game," Lillard said, "and not put too much pressure on the fact that it's my first playoff game or that we're on the road or all those other things."
Where to Watch Live
The game is scheduled for a 9:30 pm ET (7:00 am IST, 1:30 am GMT) start with live coverage on TNT in the US and Sony Six in India. The game can be watched via live streaming online in the US HERE or HERE, while UK viewers can live stream the action HERE. The game can be live streamed by international viewers, including India, HERE.