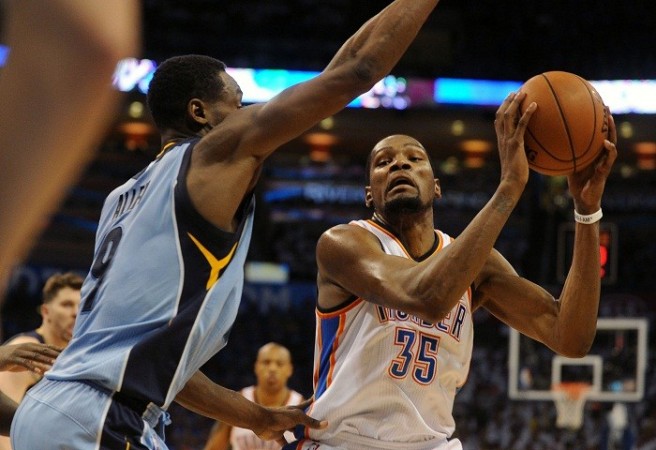 Memphis Grizzlies will have the home court advantage after levelling the NBA playoffs series 1-1 against Oklahoma City Thunder. On the other hand, in a crucial away tie, the Thunder will be hoping to register a win over the seventh-seeded Grizzlies.
Grizzlies controlled the pace in the second game, attacking and defending in fine fashion to keep Oklahoma at bay. After registering an impressive win at Oklahoma, Mephis is high on confidence heading into the third game.
Thunder are favourites to win the series and one defeat in overtime has not changed anything. In the first game when the Grizzlies rallied from a 25-point deficit, OKC showed they have enough firepower to run away with the game.
The Grizzles have won 20 out of 22 home games, which include a franchise record of 14 straight home wins. And, in previous five postseason meetings in Memphis, OKC has won only once.
Mike Conley said the Thunder are playing quite well and it is going to be a difficult task to stop them. "It's going to be tough against a team that's played so well, especially on the road," Conley said. "But we're happy with our position, I can tell you that much."
Thunder coach Scott Brooks feels in the second game his team played the second half quite well, as they were good both offensively and defensively. He added they have to make the key moments count, something they failed to do in the last game.
"I thought in the second half, our defense and offense gave us a chance," Scott Brooks said. "Unfortunately, we didn't make a couple of key plays down the stretch."
Grizzlies are a strong defensive outfit, as in Game 2 they kept a check on the strong Thunder offense. "We just keep slogging along and we feel always that if we get you in a possession game, we feel like that over the course of 48 minutes that we can grind you down," Joerger said.
Zach Randolph, who has been in good form, scored 25 points and coach Brooks would be hoping that he continues his scoring form in the upcoming games as well.
Where to Watch Live
The game is scheduled for an 8:00 pm ET (5:30 am IST, 12:00 am GMT) start with live coverage on TNT in the US and Sony Six and Sony Six HD in India. The game can be watched via live streaming online in the US HERE or HERE. The game can be live streamed by international viewers, including India, HERE.