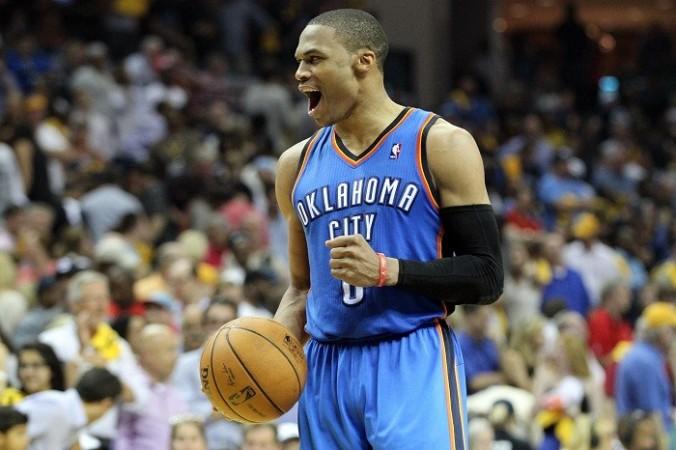 The postseason series between the Memphis Grizzlies and the Oklahoma City Thunder has shifted back to Oklahoma with both teams aiming to take a crucial lead by winning the fifth game. The Thunder will be hoping to keep their winning momentum going in front of their own fans.
The seven-game series is tied at 2-2, but the Grizzlies would have been leading the series had they not squandered the five-point lead in the dying moments of the last game. Both teams have seen close finishes in the playoffs as their last three games went into the overtime.
Oklahoma has managed to restrict Zach Randolph, as it is getting difficult for the 6-foot-9 to meet strong challenges from Kendrick Perkins and Serge Ibaka.
"They're doing an amazing job," Thunder guard Russell Westbrook said. "I don't think they're getting the credit they deserve. I think a lot of the attention is on Kevin [Durant] and myself, but I think they're doing a great job of defending those bigs, which is tough to do."
It is important for Grizzlies to come up with different plays to get Randolph open, but it is not easy as both teams are familiar with each other's tactics.
"We've got to try to get some motion with the ball movement from side to side, so when the ball does come back to him, he gets the ball at a better position closer to the basket," Grizzlies guard Mike Conley said. "I think he's been too far out having to work too hard to get to his spot."
OKC coach Scott Brooks said Perkins has played a critical role in restricting the Grizzlies and he won't give an inch to Randolph in the forthcoming tie as well. "Perk is one of the premier defenders in the league," Brooks said. "He does that game in, game out. He gives everything he has to stop his man from getting good post position. That's his first line of defense."
Brooks said the Thunder will have to keep a check on Randolph as they are expecting him to come out strong in the fifth game.
"Zach is not going to give up," Brooks said. "That guy is as good as any player in this league at playing aggressive low-post basketball. He's relentless in his pursuit of the basket, and when the offensive boards are available, he's always crashing. You always have to stay between him and the basket."
Where to Watch Live
The game is scheduled for a 9:00 pm ET (6:30 am IST, 1:00 am GMT) start. The game can be live streamed by viewers, including India, HERE.