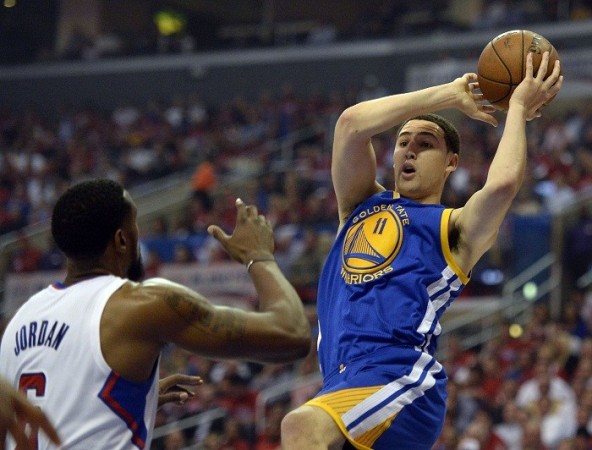 The postseason series between the Los Angeles Clippers and the Golden State Warriors has move down to Oakland. The series is tied at 1-1, but Clippers have the momentum after a 40-point victory over the Warriors in the previous encounter.
Warriors have plenty of mistakes to correct after the heavy defeat in the last game. Golden State point guard Stephen Curry said they are a good team but failed to execute the plans effectively. He believes the third game is going to be different and his team is eager to leave the last game's nightmares behind.
"We entice that trap because we have talent all over the court," Curry said. "If you give us an advantage we're probably going to beat you more times than not. Last night it seemed like we weren't able to make crisp, clean passes and crisp moves to the basket out of that trap, especially early in the game."
"I just have to be aggressive out of it," said Curry. "If they're going to trap, that's fine. I just have to be able to make the right play out of it. It's not the first trap we've seen all year, so we'll be fine.
:We're not going to quit. We're not going to just lie down and allow a team to do what they want against us. We're going to be physical, come back and it's about that competitive fire for Game 3 that we're going to need to get it done to protect our home court."
Clipper have a woeful record in Oakland, as they have lost 15 games out of 17, which include five successive defeats. Blake Griffin, though, insisted he is looking forward to play at the buzzing Oracle Arena.
"It's going to be loud. It's going to be exciting. I think every basketball player loves playing in an environment like that," Griffin said. "We've played in places that are pretty loud before, especially in the playoffs. I've heard good things about the crowd and we're looking forward to it. Absolutely."
Golden State Warriors coach Mark Jackson said it is going to be a great environment in the third game, but his team is determined to give nothing away in the crucial tie.
"It's going to be a great environment," Jackson said. "But with that being said, they won't get a stop, they won't get a score, they won't make a free throw. We've got to do our part."
Where to Watch Live
The game is scheduled for a 10:30 pm ET (8:00 am IST, 2:00 am GMT) start with live coverage on TNT in the US and Sony Six and Sony Six HD in India. The game can be watched via live streaming online in the US HERE or HERE. The game can be live streamed by international viewers, including India, HERE.