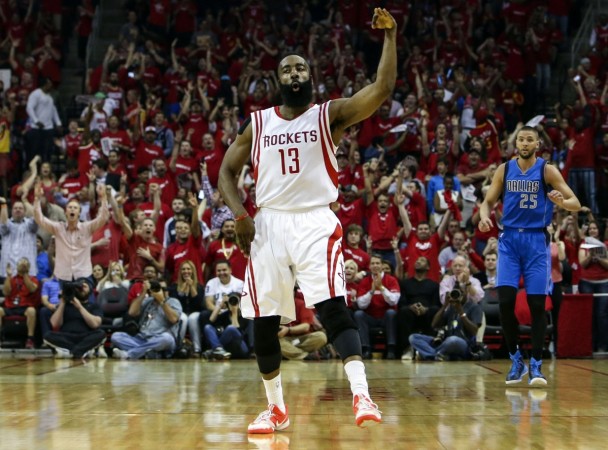 The Golden State Warriors are just a win away from the NBA finals as they have completely outplayed the Houston Rockets in the Western Conference Playoffs Final. They currently enjoy a 3-0 lead in the best of seven series.
Hence, the Warriors will be eager for a fourth straight victory against the Rockets as they clash during game 4 at Toyota Center in Texas for the conference finals. When these two teams clashed last at the same venue a few days ago, the Warriors thrashed Rockets, 115-80.
The fourth game of the series between the two is a huge one for the Rockets as they have to defeat the Warriors to remain alive in the competition.
With the form Warriors have shown of late, Rockets will have their work cut out.
Warriors' Stephen Curry has been in an impressive from right from the start of the season and he has been no different in the Playoffs as well. In the third game, the player showed his class and magic, scoring 40 points and help the Warriors win.
Not only Curry, Warriors as a team have been very focused during this playoffs and their determination to win the title after a stupendous season is reflected on their performances on the court. The Warriors defeated teams such as New Orleans Pelicans, Memphis Grizzlies en route to the conference final.
Warriors coach, Steve Kerr believes focusing on the mission and not the result has been their mantra.
''They know that the most important thing is just the next play,'' AP quoted Kerr as saying.
''Keying in on competing and paying attention to all the little details, focusing on the mission and not the result, that's always been our mantra and it's especially true in moments like these. Just keep going, keep pushing.''
Rockets can take inspiration from their last series victory over the Los Angeles Clippers. The Rockets came back in the series from 3-1 down to eventually win 4-3.
They have the players to achieve such feat with James Harden, Jason Terry and Dwight Howard being key figures. But, the Rockets also need to find a way to stop Stephen Curry from drilling those elusive three pointers, which he has been doing so consistently for the Warriors in the Playoffs.
Howard wants his team to stay positive and does not want to crumble under pressure.
''We've got to stay positive,'' Dwight Howard said. ''It's that negative energy that can go from one person to the next, and we just seemed to fold. We don't want to be the team that folded under pressure.''
Where to Watch Live
The NBA Playoffs Western Conference finals game 4 between Houston Rockets and Golden State Warriors is scheduled for 9pm ET (6:30am IST, 2am BST) start.
Viewers in the US can watch the game live on ESPN, while the Indian audience can watch it on Sony Six.
NBA fans can also watch the playoffs live on NBA.com