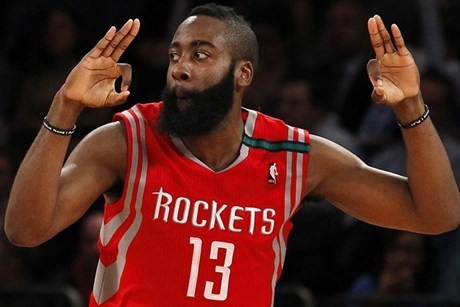 The Houston Rockets have justified their second position finish in the Western Conference, as they edge closer to the conference semi-finals after defeating Dallas Mavericks in game 3 of their first round Playoffs clash.
The Rockets lead the best of seven series, 3-0, as they prepare for game 4 at American Airlines Center, Dallas. With the performances the Rockets have shown in the series, it would be a difficult task for the Mavs to take the series to game 5.
But, the Mavs put up a great performance in Game 3 with the score reading 130-128. The Mavs gave it their all, but still finished second best. The experienced Dirk Nowitzki came up with a huge game scoring 34 points along with Monta Ellis, who also scored 34 points.
If such kind of individual brilliance fails to defeat the Rockets, one wonders what would help Mavs win.
Nowitzki and Ellis' performance were outdone by the Rockets' pairing of James Harden and Dwight Howard with the former finishing the game with 42 points. Though, Howard might not have scored big with just 13 points, his defensive performance stood tall with 26 rebounds.
Such stats are going to instill fear amongst other teams in the Playoffs.
Harden might not have been allowed to play at his fluent best in the first two games, but when the player was given space in game 3, he ripped them apart.
"The first two games, they kind of put two on the ball and kind of got me off the ball," AP quoted Harden as saying. "This game, there were really no traps or anything like that. They were just giving me lanes and letting me be aggressive. So I just tried to read the play and make the best decision."
It would be interesting to see Mavs ploy on Harden for game 4. Will they double team him or let him loose?
"(Harden) didn't shoot the ball great the first two games, so we knew at some point he would start to make shots," Devin Harris said.
"We changed some things up and made some adjustments, but I'm pretty sure that we'll make further adjustments in Game 4."
But, they should not only have plans for Harden, but also Howard if they are to take the series to Houston for the fifth game.
If the Rockets finish off the series on Sunday, the winner of the San Antonio Spurs and LA Clippers series will face Rockets. Spurs presently lead 2-1.
Where to Watch Live
The NBA Playoffs Round 1 Game 4 between Houston Rockets Vs Dallas Mavericks is scheduled for 9:00pm ET (6:30am IST, 2:30am BST) start.
Viewers in the US can watch the game live on TNT.
Indian viewers can watch it live on Sony Six.
NBA fans can also watch the playoffs live on NBA.com