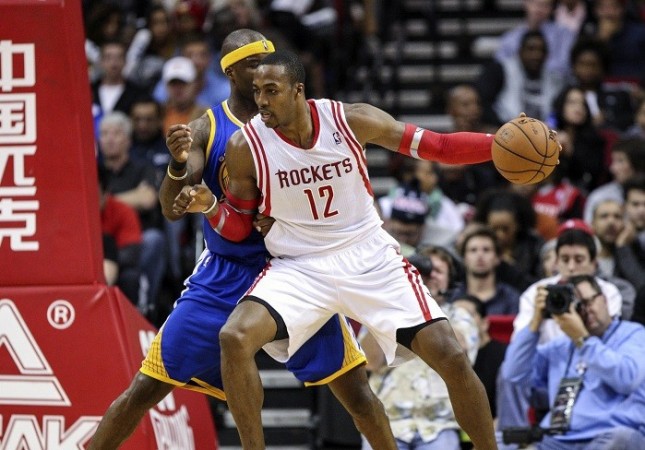 The Houston Rockets resembled a great team during the NBA regular season and a huge credit needs to be given to James Harden for their second place finish in the Western conference.
But when Rockets played the Mavericks in the second game of the first round playoff match-up, they showed that their team is not only about Harden, with Dwight Howard and Josh Smith showing their class as well.
Not only was the big Rockets man Howard great at the board, he was also offensive, as he finished with 28 points and 12 rebounds. Smith scored 15 points during the game.
With Howard having missed a number of games in the regular season due to injuries, the player look refreshed for the Playoffs, which is an alarming sign for other teams in the Playoffs.
"It's playoff basketball," AP quoted Howard as saying.
"I think for guys that have been around for a while they tend to play a little bit different in the playoffs than they do in the regular season. It's a new season for myself and I get a chance to start fresh."
The second game also witnessed some high fyling tempers with Mavs player Tyson Chandler receiving a technical foul for pushing Howard.
"It's not a one-on-one matchup," Howard said. "I know his (Chandler) job is to get me frustrated and get me into a fight and a wrestling match with him and that way I'm not focused on what I need to do for my team. I have to stay in that zone."
Hence, it would be interesting to see these two players clash during the third game at American Airlines Center, Dallas, which the Mavs have to win and come back in the best of seven series.
Harden has had an average first two games (as per his standards) as he has been tightly guarded. He averages 24 points in the first two games. But his best has not been needed so far and expect the all star to show his class when it matters.
The Mavs have some of the best fans in the league and they are required to play an important role outside the court as Mavs host Rockets.
"We're coming home and we've got the best fans in the league," Mavs coach Ricky Carlisle told the team's official website. "We're excited to be home, so that's where we are.
"From here, we're moving forward. We've got a series to win and we've got to win Game 3 with the guys that are available."
Where to Watch Live
The NBA Playoffs Round 1 Game 3 between Houston Rockets Vs Dallas Mavericks is scheduled for 7pm ET (4:30am IST, 12am BST) start.
Viewers in the US can watch the game live on ESPN.
Indian viewers can catch it live on Sony Six.
NBA fans can also watch the playoffs live on NBA.com.