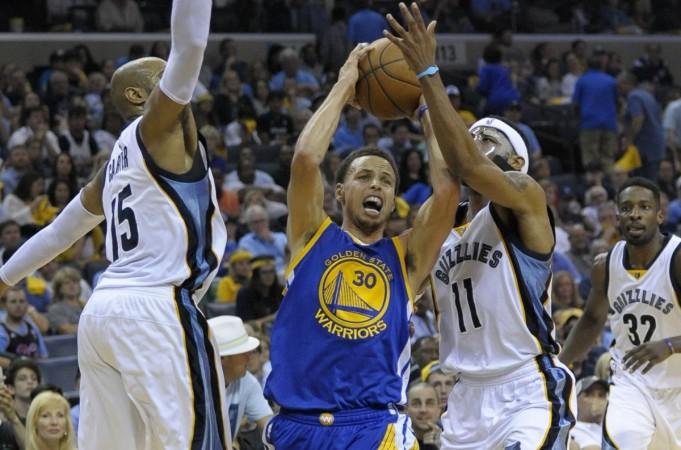 The Golden State Warriors put up an emphatic performance in game 4 to tie the western conference semi-finals against Memphis Grizzlies at 2-2, with the score reading 101-84.
It is this kind of form that had helped Golden State Warriors top their conference as well during the regular season and if they maintain it, they can live up to the favourites tag.
The fourth game was all about Stephen Curry, who scored 33 points during the night. Curry was due for a big game with below par performances in the series. "I get frustrated, but never down," AP quoted Curry as saying. "I'm pretty good at being able to go home and forget about what happened in a game."
With the series tied, the fifth game between the two sides at Oracle Arena is expected to be an entertaining one with the winner having an advantage in game 6.
The Grizzlies have tried to take a defensive approach against the Warriors, who are one of the best offensive teams in the NBA. As a result of which the Grizzlies have also not been able to concentrate on their offense, which can be understood from their points in the series so far.
They have scored 86, 97, 99 and 84 points in the last four games of the series and Grizzlies' Coach Dave Joerger understands that the team needs to score 100 points to defeat the Warriors.
"At some point we're going to have to score 100 points to win a game against them," Joerger said. "You can't just keep running your defense at them."
The Grizzlies are aware of the tough task as the Warriors will be playing in front of their home crowd and will be eager to showcase their skills and turn triumphant, inching closer to the conference finals.
The Warriors enjoyed a 39-2 win-loss record during the regular season.
If the Warriors play the way they did in game 4 with four of the first five starters reaching double figures, they are sure to trouble the Grizzlies. Apart from Curry, Draymond Green stood out with his 16 points as well.
Green wants his team to play with the same intensity.
"Anytime you take a possession off - offensively or defensively - they're going to make you pay for it," Green said. "Everybody came on the floor with the intensity need to win that game. That's how we have to continue to play for the rest of this series."
Where to Watch Live
The NBA Playoffs semi-finals game 5 between Warriors and Grizzlies is scheduled for 10:30 pm ET (8am IST, 3:30am BST) start.
Viewers in the US can watch the game live on TNT.
Viewers in India can watch it live on Sony Six.
NBA fans can also watch the Playoffs live on NBA.com