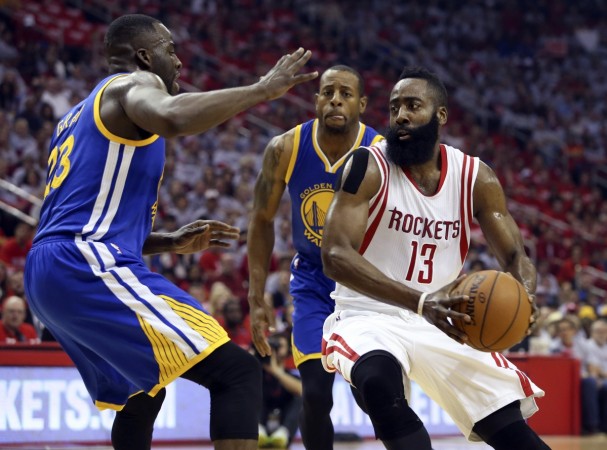 James Harden rose to the occasion for Houston Rockets in the western conference finals, scoring 45 points in game 4, helping his team defeat Golden State Warriors 128-115. With Harden's individual brilliance, the Rockets have come back in the best of seven series, 3-1.
With game 5 at Oracle Arena in California, can the Rockets, in particular Harden, come up with a similar performance?
All their key players need to stand up once again as they did in game 4. Their starters finished with double figures as Josh Smith and Trevor Ariza also stepped up their game with 20 and 17 points respectively.
The Warriors will be eager to finish off the series at home and avoid another visit to Toyota Center.
A victory on the road for the Rockets could give them an opportunity to claw back in the series in the same way as they did against Los Angeles Clippers. The Rockets came back from 3-1 down to win the series 4-3 and set up a date with Warriors.
Klay Thompson, who top scored for Warriors with 24 points, knows that it is not going to be easy against the Rockets.
''We just don't want to come back to Houston,'' AP quoted Klay Thompson as saying. ''It's not going to be easy. They are here for a reason. We have to come and play with more intensity and play together and we'll win the game.''
It was a rare game for NBA Most Valuable Player, Stephen Curry, who finished with 23 points and could not help his team cross the finishing line. Curry must consider himself lucky to be available for selection after he remained on the floor for some minutes with discomfort as his head hit the floor hard.
Luckily, he just had a bruise on his head.
The Warriors star only played 31 minutes in the game but still finished with 23 points, which included 6 three pointers as well. The Warriors might have been defeated, but they still scored 115 points, which talks highly about their attacking capability.
The Rockets outscored Warriors in game 4, which had not happened in the series .
Despite the win, the Rockets are aware of Warriors and their performance at home, where they enjoyed a 39-2 win loss record during the regular season. If Curry and Thompson get their shooting range, no defender in the NBA will be able to stop these guards from drilling those elusive three pointers, which have helped them cross the finishing line a number of times.
Where to Watch Live
The NBA Playoffs Western Conference finals game 5 between Golden State Warriors and Houston Rockets is scheduled for 9pm ET (6:30am IST, 2am BST) start.
Viewers in the US can watch the game live on ESPN, while the Indian audience can watch it on Sony Six.
NBA fans can also watch the playoffs live on NBA.com.