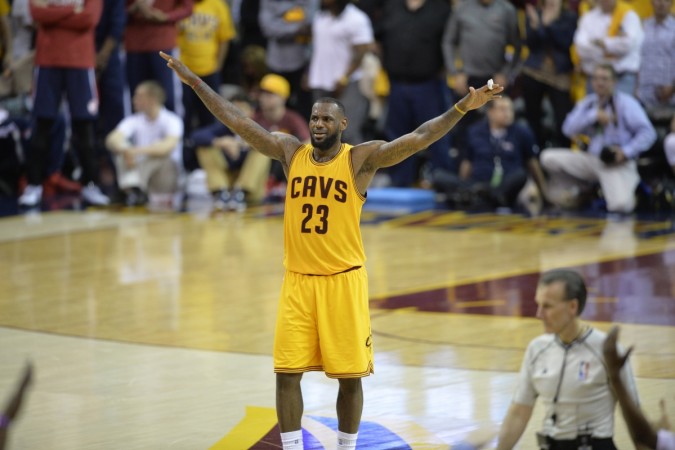 The Cleveland Cavaliers have won their last three games against the Atlanta Hawks in the Eastern Conference Finals. They have taken a 3-0 lead in the best of seven series, and a victory in Game 4 at Quicken Loans Arena will seal Cavs' NBA finals berth.
But, the Hawks, who enjoyed a fantastic regular season, will not give up so easily and will be dermined to give their best in this crucial encounter. They have been outplayed in the series so far, and failing to stop LeBron James from scoring has been a major concern for the Hawks.
The same was witnessed in Game 3 as well, where James finished with 37 points, while also completing a triple double. Though other players such as Matthew Dellavedova and Iman Shumpert scored 17 and 15 points respectively, it was James' individual performance, which helped them cross the line with the score reading 114-111.
What made the victory much sweeter was that the team did it without the services of Kyrie Irving, who did not even feature in the game due to left knee tendinitis, and the guard first leg is also questionable for Game 4. Irving has only played one game in the series so far.
James has been in an amazing touch, averaging 27.9 points per game in the 2015 Playoffs, with a win set to take the Cavs to another final.
Winning has been the major goal for James, after he came back to Cleveland from the Miami Heat, where he was a huge success. He wants to achieve the same with Cavs.
''It's been my goal since I got back here, not only to get back, but to win, win the whole thing,'' AP quoted James as saying. ''That's my goal. It's part of my drive. That's what it's about.''
Despite trailing, 3-0 in the series, make no mistake, Hawks have not been as bad as the series scoreline may suggest. They have been simply outclassed by Cleveland and James, in particular. For instance, during the third game, all of the Atlanta Hawks starters finished the game in double figures, with Jeff Teague and Paul Millsap scoring 32 and 22 points respectively. But yet, it was not enough to beat the Cleveland Cavaliers.
Despite being on the receiving end, Millsap feels confident of keeping the Eastern Conference Finals alive. ''No matter what happens, we're still going to be confident,'' Paul Millsap said.
''We believe in our team. We believe in the guys that we have. We feel like we can do something special, whether this year, next year, whatever. We're going to stick to this. It's not over till it's over."
Where to Watch Live
The NBA Playoffs Eastern Conference finals game 4 between Cleveland Cavaliers and Atlanta Hawks is scheduled for 8:30pm ET (6am IST, 1:30am BST) start.
Viewers in the US can watch the game live on TNT while Indian audience can watch it on Sony Six.
NBA fans can also watch the Playoffs live on NBA.com