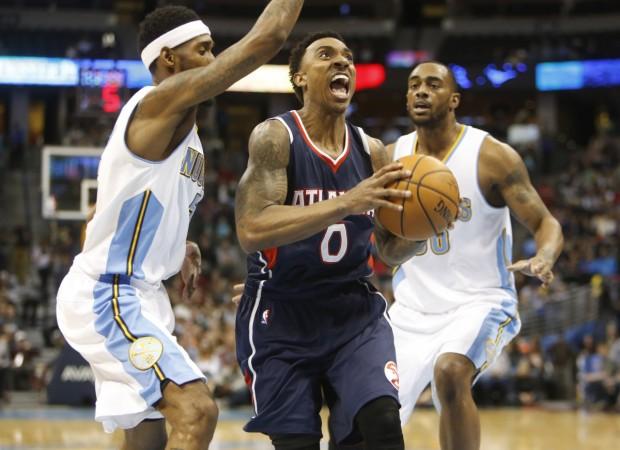 After defeating Washington Wizards in the fourth game of the eastern conference semi-finals, Atlanta Hawks are in a confident mood with the series tied at 2-2. The fifth game of the series is expected to be another close encounter at Philips Arena, Atlanta.
Jeff Teague put up an impressive showing in the fourth game as he scored 26 points. Other players such as Paul Millsap and Al Horford also finished with 19 and 18 points respectively to help the Hawks edge past Wizards, 106-101.
For the Wizards, Bradley Beal came up with an amazing performance, scoring 34 points, but was still not able to help his team emerge victorious. Paul Pierce scored 22 points.
One thing is for the sure that the Wizards are missing the services of John Wall, who was impressive during the regular season as well as first round of the NBA playoffs. Had Wall been playing for the Wizards in this series, the story could have been different.
After suffering fractures in his left wrist and hand in Game 1 against Hawks, Wall had been initially ruled out of the playoffs.
Though the player has started to practise, his presence in Wednesday's clash is still uncertain. If he does play, the Wizards will be upbeat and may have a spring in their stride with their star player in action.
''We've seen him (Wall) out there dribbling a little bit, handling the ball, taking jump shots (in practice)," AP quoted guard Garrett Temple as saying. ''If he's not able to play, just keep fighting, try to get another win and prolong that process for him.''
But the Hawks are not going to take Wizards easy, especially with their loss at home a few days ago. The Hawks lost the first game of the series at home, 104-98.
Teague is aware that the Wizards have beaten them at home.
''Now we got to go back home and take care of business,'' Teague said. ''They beat us once on our home floor, so they're comfortable playing there, but we got to make it a hostile environment.''
Where to Watch Live
The NBA Playoffs semi-finals game 5 between Hawks and Wizards is scheduled for 8pm ET (5:30am IST, 1am BST) start.
Viewers in the US can watch the game live on TNT.
Viewers in India can watch it live on Sony Six.
NBA fans can also watch the Playoffs live on NBA.com