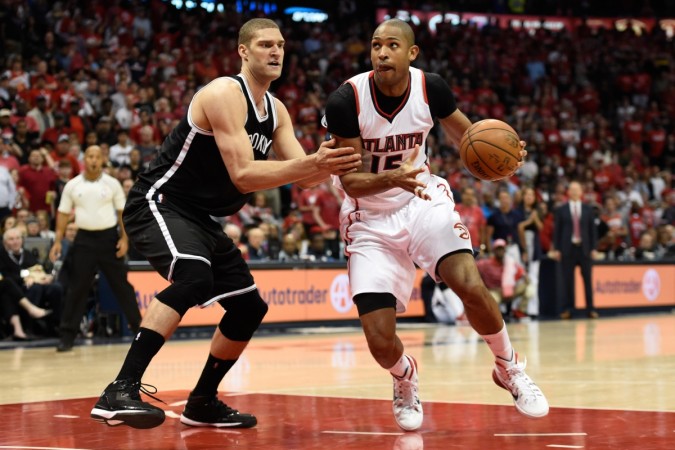 When Brooklyn Nets just managed to grab a Playoff spot and set a date with Atlanta Hawks for the first round, the Eastern Conference table toppers, Hawks were expected to clinch the first round series easily.
The Hawks were very impressive in the regular season as they won 60 out of the 82 games, but things have not gone as planned for the Hawks in the playoffs, as the best of seven series is currently tied at 2-2.
The Nets came with up a brilliant game 4 as they defeated Hawks, 115-120, when the Hawks were eager to take a comfortable lead, 3-1 in the series.
With game 5 on Wednesday at Philips Arena, the Hawks need to find a way to stop the Nets from taking a 3-2 lead in the series.
After winning game 4, the Nets might be a confident unit, and especially Deron Williams, who showed his class with playoff career-high 35 points. He was on a league of his own drilling seven three-pointers as well.
The Nets were struggling in the regular season, but they have been very competitive during the series.
"I think we've been rallying around each other the last month or so," AP quoted Williams as saying. "Definitely the guys rallied around me and it means a lot. It just shows we're definitely coming together as a unit. It's taken longer than we thought, but it's happening."
Hawks player Al Horford also feels that it was Williams' performance, which was the difference between the two sides.
"We understand and we know that Deron's capable of doing that," Horford said. "You can only contain that type of player for so long. He had three not-so-great games (in the series). He came out (Monday) and he was the difference."
Hawks are required to showcase their game, which helped them clinch the Eastern conference with relative ease in the regular season.
Their key performer Kyle Krover has not been able to impress in the Playoffs, as he averages 14 points per game in the Playoffs.
Where to Watch Live
The NBA Playoffs Round 1 Game 5 between Nets and Hawks is scheduled for 7pm ET (4:30am IST, 12:30am BST) start.
Viewers in the US can watch the game live on TNT.
Indian viewers can watch it live on Sony Six.
NBA fans can also watch the playoffs live on NBA.com.