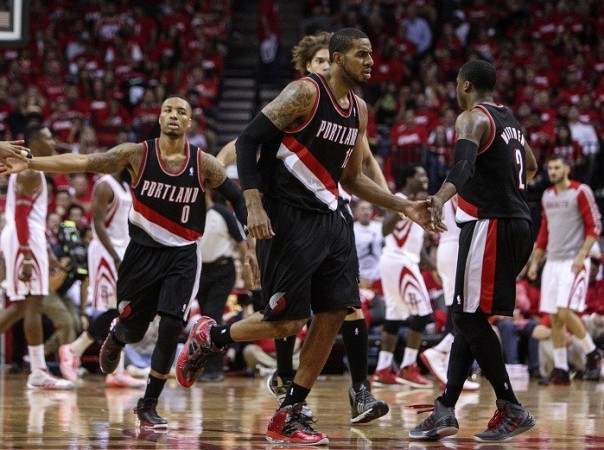 Only three teams have won consecutive games in the playoffs this season and Portland Trail Blazers are one of them. Blazers are high on confidence and would be looking to extend their winning streak at home. On the other hand, Houston Rockets will be trying to bounce back after losing the first two games at home.
Both Blazers and Rockets are offensive units, with very little to separate them. The one who will defend well in the third game will emerge as the winner. Rockets have beeen having a tough time in containing LaMarcus Aldridge, who has scored 46 and 42 points in previous two games.
Aldridge has been equally threatening from the paint and perimeter in the postseason. Rockets' James Harden said it is difficult for them to keep a check on him and they will have to find a solution pretty soon.
"He's making tough shots, he's getting to the foul line. He's offensive rebounding. He's doing the whole package and it's tough for us," Harden said. "We gotta figure something out real soon. In game three, it is either we win or it's over."
Harden also needs to get his offensive rhythm back. He can break down any defense, score quick points and is unstoppable when in the groove.
Rockets' center Dwight Howard, who scored 32 points in the second game, said they have beaten Portland in the past and they can do it again. He added this is not the time to panic.
"We've played against Portland in the regular season and we were successful. We just got to play basketball. We can't look back. We have to stay positive," Howard said. "They won two games but it's the first to four and we can't let our heads go down. We dug a hole but we can always get out of it."
Portland's coach Terry Stotts said his team looked good defensively in the last two games and he applauded Wesley Matthews and Nicolas Batum for keeping a check on Harden and shutting him down in the postseason.
"We've done a good job guarding without fouling and one thing about playoff basketball is that everybody has the every possession mentality," Stotts said. "We didn't fall asleep on him and I don't think he got a lot of easy looks and every great player in this league, you just want to make them work and I think Nick and Wes in particular really have made him work."
Where to Watch Live
The game is scheduled for a 10:30 pm ET (8:00 am IST, 2:30 pm GMT) start with live coverage on Sony Six and Sony Six HD in India. The game can be watched via live streaming online in the US HERE. The game can be live streamed by international viewers, including India, HERE.