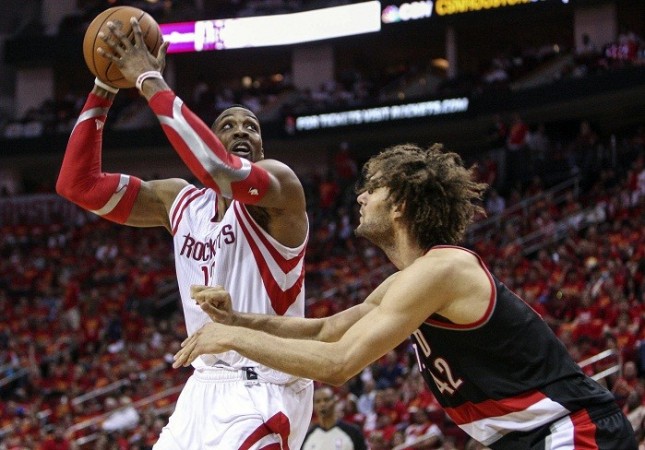 Trailing 3-1 in the first round playoff series after Game 4, the Houston Rockets managed to reduce the deficit by winning the fifth postseason game against the Portland Trail Blazers. The Rockets head into Game 6 confident of levelling the series to force a Game 7.
Making a comeback from a 3-1 deficit was not an easy task, but Houston has managed to pull one game back and is looking good going into Game 6.
Unlike previous games, the Rockets have plenty of momentum after their Game 5 victory, as they controlled the tie right from the start and built a solid 17-point lead by the end of the second quarter.
The Trail Blazers are just one win away from knocking out the Rockets from the playoffs, however. Howard said he is not planning an early vacation and determined to win the remaining games.
"I don't want to go on vacation," Howard said. "I want to win. I want to give everything I've got. Every night, put my heart into it and sacrifice my body and do whatever I can to help this team win. It's not going to be easy."
Only eight teams have managed to come back from a 3-1 deficit, but Rockets' Chandler Parsons is hopeful of making a turnaround.
"We're not hanging our heads at all. We believe in each other and in that entire locker room nobody thinks this series is over," Parsons said. "We have a chance to do something special here and we've got to continue to do that and take it one game at a time."
Portland's Robin Lopez said they underestimated Houston in the previous game and they will come with greater intensity in the sixth game.
"I think we may have underestimated how desperate they were going to come out," he said. "I'm excited for Game 6 and I know that they will come out with a greater level of intensity and confidence and we will have to try and match it, overcome it."
Where to Watch Live
The game is scheduled for a 10:30 pm ET (8:00 am IST, 2:30 pm GMT) start with live coverage on Sony Six and Sony Six HD in India. The game can be watched via live streaming online in the US HERE or HERE. The game can be live streamed by international viewers, including India, HERE.