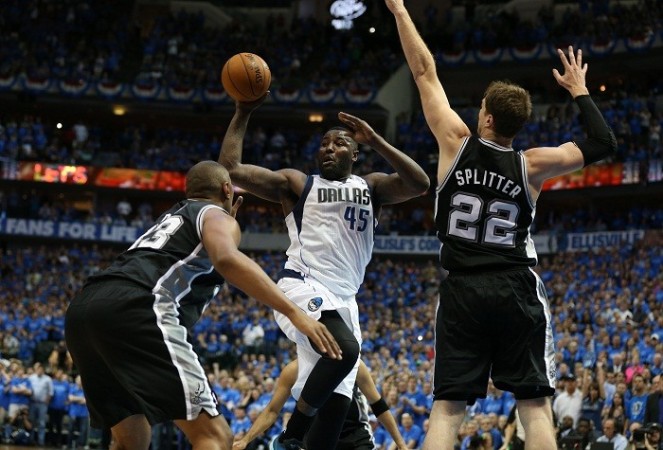 After winning the fourth game and squaring the series 2-2 against the Dallas Mavericks, the San Antonio Spurs have a chance of taking the home-court advantage in the playoffs. The Spurs managed to break Dallas' winning streak, but it wasn't the best of games played by them.
The fifth could be anyone's game as apart from the second game won by the Mavericks both teams are evenly matched in the postseason series.
The Spurs have been in this situation before, and they know how to deal with pressure in such big games, while Dallas has showed they are capable of pulling off an upset and beat top teams.
San Antonio's Tony Parker has not been in best of form, with just one notable performance in the third game. But Spurs coach Gregg Popovich is not concerned about Parker's struggles.
"He didn't have a great game by any means, but it happens. He'll be fine," Gregg Popovich said. "I don't think the same guys are going to play great every night in a series."
Mavericks coach Rick Carlisle is happy his team has managed to confine Parker in the playoffs, but urged to keep other San Antonio players in check as well.
"If Parker's having some down stretches, it probably means we're busting our butt and doing a good job on him," Carlisle said. "But when the Ginobilis and Splitters and Diaws make plays, that means that we aren't getting it done in some other areas."
The Spurs have managed to slow down Dirk Nowitzki, as the 7-foot German has not managed to score more than 20 points in any of the postseason games. Nowitzki is not getting any space at the 3-point line and has converted only one out of the four attempts.
Dallas' Vince Carter said Nowitzki has missed some sitters, but he will be fine in the crucial encounter. "He's missed some easy bunnies that I think he's rushed because now when they're open he's like, 'Oh, man I've got to get it up,"' Carter said. "He beats himself up over it. He'll play through it. He'll be fine."
Where to Watch Live
The game is scheduled for a 7:00 pm ET (4:30 am IST, 11:00 pm GMT) start with live coverage on TNT in the US and Sony Six and Sony Six HD in India. The game can be watched via live streaming online in the US HERE or HERE. The game can be live streamed by international viewers, including India, HERE.